A tasty member of the greater Bolete family. This mushroom can sometimes also be known as the Boletus testaceoscaber or Boletus rufescens.
| | |
| --- | --- |
| Mushroom Type | |
| Common Names | Orange Birch Bolete (EN), Cap Tyllog Melyngoch Bedw (CY), Koźlarz Pomarańczowożółty (PL), Kormostönkű Érdestinóru (HU) |
| Scientific Name | Boletus / Leccinum versipelle |
| Synonyms | Boletus versipellis, Boletus testaceoscaber, Boletus rufescens |
| Season Start | Jul |
| Season End | Nov |
| Average Mushroom height (CM) | 20 |
| Average Cap width (CM) | 20 |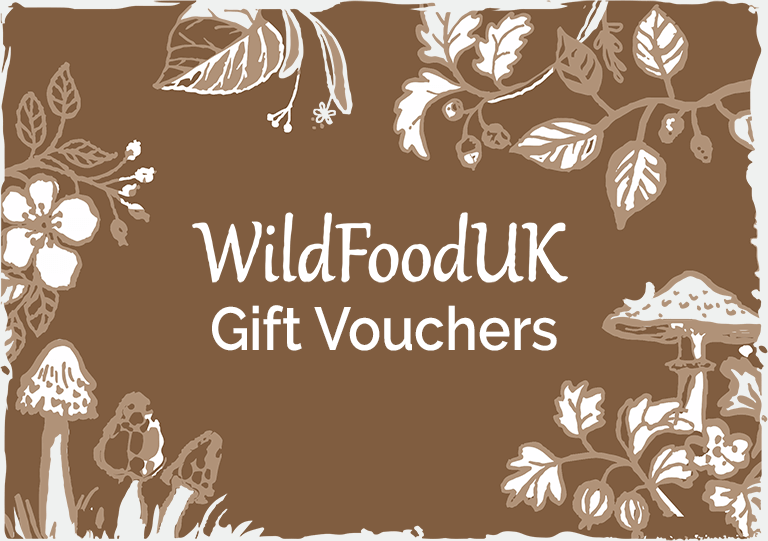 Please note that each and every mushroom you come across may vary in appearance to these photos.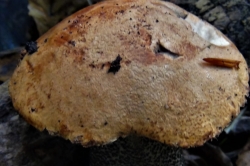 Cap
Starting ovate opening to broadly convex and staying like that until finally flattening out a bit with age, can be slightly downy. Orange to red orange/brown or even yellowish, this mushroom can vary greatly in cap colour and the versipelle used to be thought of as several different Leccinum species. The top edge of the cap overhangs the pores a little bit which can help with identification.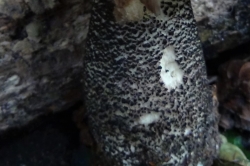 Stem
White to off-white mottled with small brown to black scales which give it a dirty appearance. The stem can be longer than the diameter of the cap.
Flesh
White/pale grey turning dark blue/green in the stem to dark grey/black on cooking.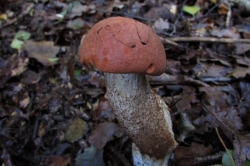 Possible Confusion
The Orange Bolete (Leccinum aurantiacum) looks almost identical and can grow with Birch but the two are edible if well cooked.
Spore Print
Brown. Subfusiform.
Taste / Smell
Good, similar to the Cep. Must be well cooked before consumption as it is mildly toxic, 15 to 20 minutes apparently destroys all the toxin.
RELATED WILD FOOD RECIPES
RELATED FORAGING ARTICLES