Occasional, but being a large mushroom can often be seen from a distance. Can easily be confused with the Horse Mushroom but both are great tasting mushrooms so it's not a problem.
| | |
| --- | --- |
| Mushroom Type | |
| Common Names | Macro Mushroom, Madarch Mawr y Maes (CY), Pieczarka Wielkozarodnikowa (PL), Nagyspórás Csiperke (HU) |
| Scientific Name | Agaricus crocodilinus |
| Synonyms | Agaricus macrosporus, Agaricus urinascens |
| Season Start | May |
| Season End | Nov |
| Average Mushroom height (CM) | 12 |
| Average Cap width (CM) | 10-25 |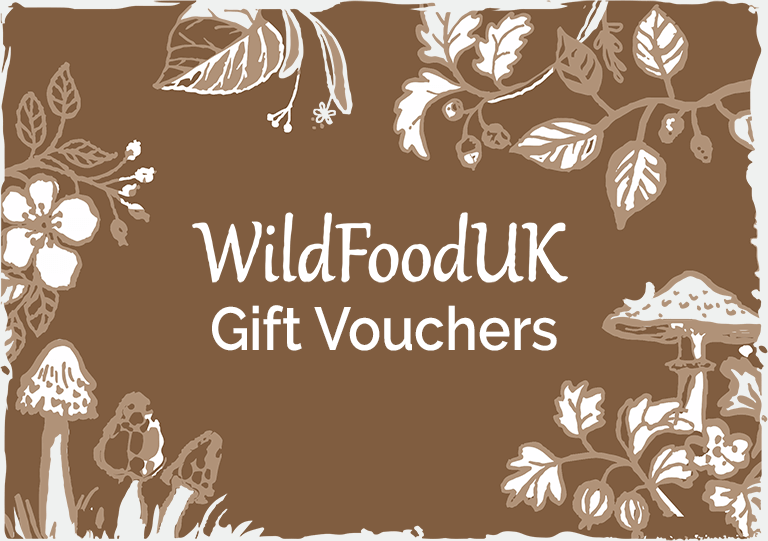 Please note that each and every mushroom you come across may vary in appearance to these photos.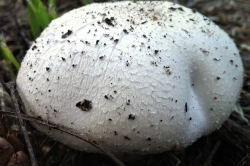 Cap
10 to 25 cm when mature. Convex opening out flat becoming scaled and splitting at the edges when mature. Can remains of the veil hanging on the edges. Off-white sometimes with a pale yellow or brown flush.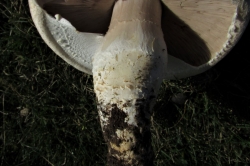 Stem
White/cream and covered in floccules below the skirt. The stem tapers towards both the cap and base.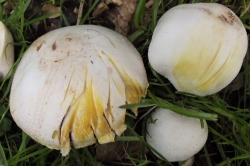 Possible Confusion
The toxic Yellow Stainer (Agaricus xanthodermus), but this mushrooms flesh stains chrome yellow when bruised or cut and smells of phenol or Indian ink.
The Horse Mushroom (Agaricus arvensis) looks similar but has a smooth stem, unlike the floccule covered stem, below the skirt, of the Macro Mushroom.
Spore Print
Brown. Ellipsoid.
Taste / Smell
Mushroomy with a hint of almond or aniseed. Should be cooked before consumption. Smells of almonds to some, aniseed to others.
Other Facts
Even when young these are always full of maggots.
RELATED WILD FOOD RECIPES
RELATED FORAGING ARTICLES