A great mushroom with a rich, strong taste and as it can grow so large and in rings, usually provides quite a feast.
| | |
| --- | --- |
| Mushroom Type | |
| Common Names | Horse Mushroom (EN), Abrahams, Caws Ceffyl (CY), Pieczarka Biaława (PL), Erdőszéli Csiperke (HU) |
| Scientific Name | Agaricus arvensis |
| Season Start | May |
| Season End | Oct |
| Average Mushroom height (CM) | 10 |
| Average Cap width (CM) | 25 |
Please note that each and every mushroom you come across may vary in appearance to these photos.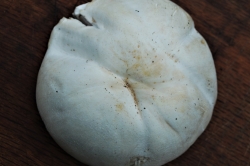 Cap
White, sometimes discoloured grey/brown, can be scaly or smooth. Starting spherical and opening out flat. Can bruise slightly yellow.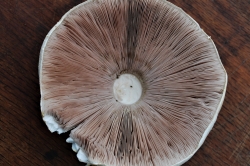 Gills
When very young the gills are almost white but quickly turn from pink/grey to brown in more mature specimens. Crowded. On unopened caps the ring, while still joined to the cap looks like a 'cog wheel'.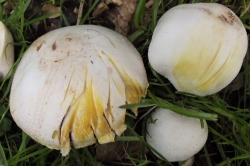 Possible Confusion
The Yellow Stainer (Agaricus xanthodermus) but this mushroom stains chrome yellow when bruised or cut and smells of Indian ink, hospitals or iodine not edible. Can look similar to some of the Amanitas when young and light gilled.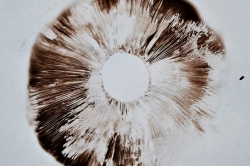 Spore Print
Dark purple/brown. Ellipsoid. You should scrape your spores into a small pile to get an accurate spore colour.
Taste / Smell
Excellent, this is one of our  favourites. The smell of aniseed is a good way to identify this mushroom. Should be cooked before consumption.
RELATED WILD FOOD RECIPES
RELATED FORAGING ARTICLES