A great tasting mushroom with flesh that bruises or oxidises red. Similar in looks to The Prince (Agaricus augustus), though smaller in size.
| | |
| --- | --- |
| Mushroom Type | |
| Common Names | The Great Wood Mushroom, Madarch Cennog y Coed (CY), Pieczarka Krwawiąca (PL), Kárminhúsú Csiperke (HU) |
| Scientific Name | Agaricus langei |
| Season Start | Jun |
| Season End | Oct |
| Average Mushroom height (CM) | 10 |
| Average Cap width (CM) | 10 |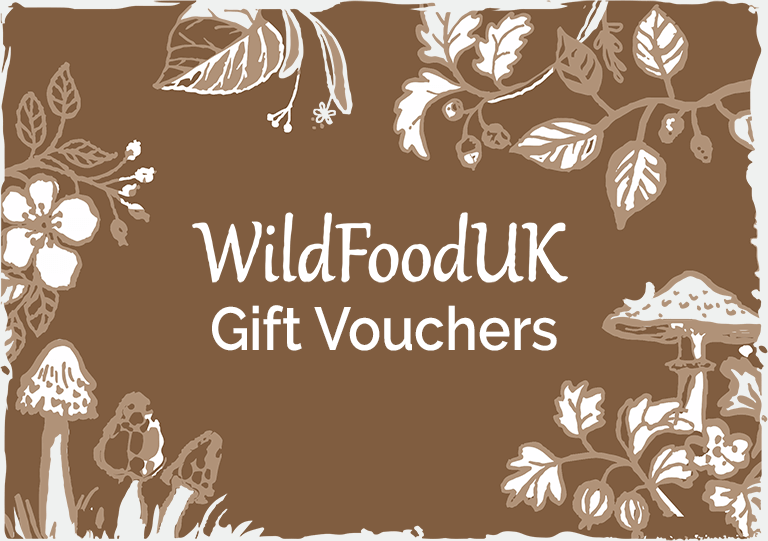 Please note that each and every mushroom you come across may vary in appearance to these photos.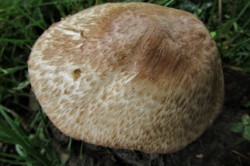 Cap
Spherical when young becoming convex. Covered in concentric slightly reddish brown scales on a white to pale yellow background.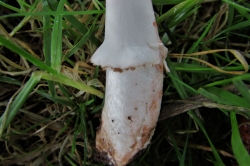 Stem
White to pale cream with red hints, smooth above the skirt and covered in small brown scales below.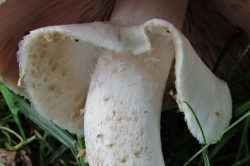 Skirt
A single white fleshy ring hanging down (superior) with brown to grey floccules on the underside.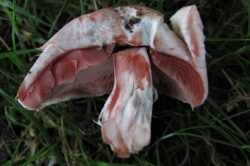 Flesh
White, bruising or oxidising to pink/red. Can be yellowish in the base of the stem in older specimens.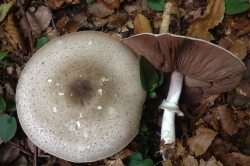 Possible Confusion
Inky Mushroom (Agaricus moelleri), pictured, looks similar but the chemical, unpleasant smell of the flesh of this mushroom and the fact its flesh doesn't stain red should keep you safe.
The Prince (Agaricus augustus) is similar but usually a lot larger and delicious so there is no harm confusing the two.
Spore Print
Purple/brown. Ellipsoid.
Taste / Smell
Pleasantly mushroomy. 
RELATED WILD FOOD RECIPES
RELATED FORAGING ARTICLES