Can accumulate cadmium so best picked from the wild away from urban spaces and busy roads.
| | |
| --- | --- |
| Mushroom Type | |
| Common Names | The Prince (EN), Caws Cennog y Coed (CY), Pieczarka Okazała (PL), Óriás Csiperke (HU) |
| Scientific Name | Agaricus augustus |
| Season Start | Jul |
| Season End | Nov |
| Average Mushroom height (CM) | 20 |
| Average Cap width (CM) | 20 |
Please note that each and every mushroom you come across may vary in appearance to these photos.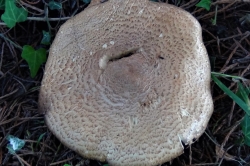 Cap
Spherical when young becoming convex. Covered in concentric chestnut brown scales on a white to pale yellow background. Can stain yellow on the edges where touched.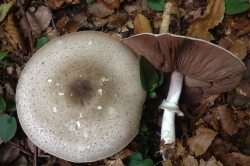 Possible Confusion
The Inky Mushroom (Agaricus moelleri), pictured, looks similar but the chemical, unpleasant smell of the flesh of this mushroom should keep you safe.
The Prince also looks a little like some of the Lepiotas but these always have white/off white gills not the pale pink to brown gills of the Agaric family.
Spore Print
Purple/chocolate brown. Ellipsoid.
Taste / Smell
Excellent. Mushroomy. The flesh smells of bitter almonds. Should be cooked before consumption.
Other Facts
One of our favourite mushrooms.
RELATED WILD FOOD RECIPES
RELATED FORAGING ARTICLES