A fairly common, tasty mushroom on alkali soils in grassland, woodland and even occasionally on sand dunes.
| | |
| --- | --- |
| Mushroom Type | |
| Common Names | Slender Parasol (EN), Parasol Main (CY), Czubajka Sutkowata (PL), Karcsú Őzlábgomba (HU) |
| Scientific Name | Macrolepiota mastoidea |
| Synonyms | Macrolepiota konradii |
| Season Start | Jul |
| Season End | Nov |
| Average Mushroom height (CM) | 20 |
| Average Cap width (CM) | 12 |
Please note that each and every mushroom you come across may vary in appearance to these photos.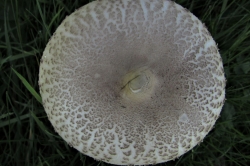 Cap
The cap starts rounded and tan brown, darker in the middle. This opens out to almost flat, cracking the brown surface leaving behind 'scales' with an off white background. There is always quite a pronounced umbo in the middle of the cap.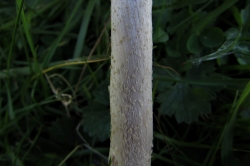 Stem
The stem is usually quite long with the 'snakeskin' pattern of the true Parasol only very pail.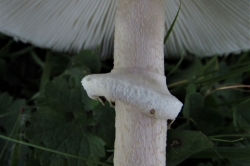 Skirt
The double skirt is white on the upper surface, brown on the lower surface and can be moved up and down the stem if attempted delicately.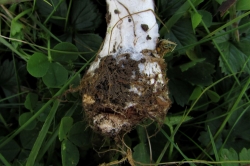 Bulbous Base
The Slender Parasol does have a bulbous base but it does not resemble the volva of dangerous Amanitas.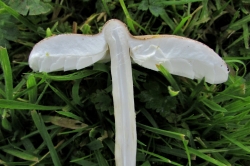 Flesh
The white flesh may discolour slightly when exposed to air but will not turn orange/red like the Shaggy Parasols.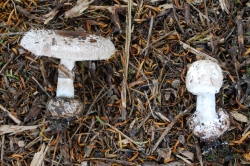 Possible Confusion
Could be confused with the Parasol (Macrolepiota procera) but it has a much darker snakeskin pattern on the stem and cap.
The Shaggy Parasols (Chlorophyllum rachodes), pictured, look similar but have plain stems and flesh that will bruise orange/red.
Spore Print
White/off white. Ellipsoid.
RELATED WILD FOOD RECIPES
RELATED FORAGING ARTICLES