Uncommon in the South more frequent in Scotland and Northern Britain.
| | |
| --- | --- |
| Mushroom Type | |
| Common Names | Saffron Milkcap, Red Pine Mushroom |
| Scientific Name | Lactarius deliciosus |
| Season Start | Jul |
| Season End | Nov |
| Average Mushroom height (CM) | 7 |
| Average Cap width (CM) | 10 |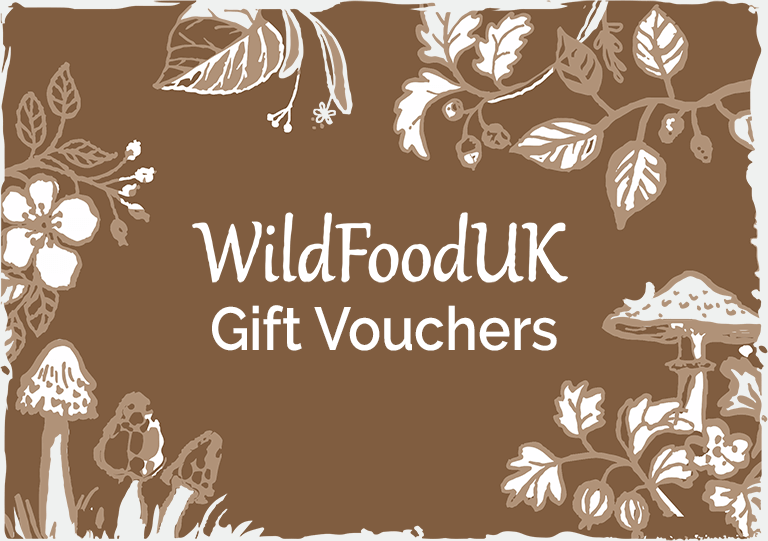 Please note that each and every mushroom you come across may vary in appearance to these photos.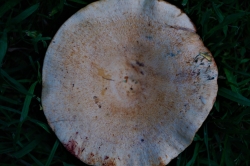 Cap
Convex with a depression in the centre when young becoming shallowly funnel-shaped. Salmon pink/orange with darker concentric rings. Green areas especially on aging or bruising.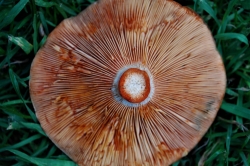 Gills
Gills pale pink/saffron becoming carrot coloured and eventually bruising green. Can exude carrot coloured milk which will also turn green on drying. Gills running slightly down the stem.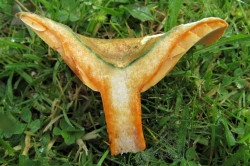 Flesh
Orange becoming white towards the centre of the stem. Exudes carrot coloured milk which will turn green after drying.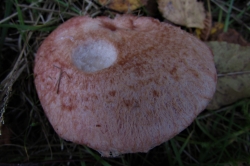 Possible Confusion
The Woolly Milkcap, Lactarius torminosus, pictured, but this has 'woolly' edges to the cap that extend in towards the stem and has off white milk not Carrot coloured.
Lactarius deterrimus which is edible but not quite as good as deliciosus.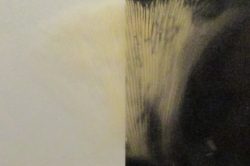 Spore Print
Cream to pink, almost salmon coloured. Ellipsoid with ridges. You should scrape your spores into a small pile to get an accurate spore colour.
Taste / Smell
Good with a crisp texture. Will turn your meal orange.
Frequency
Uncommon in the South becoming more prevalent the further North you look.
RELATED WILD FOOD RECIPES
RELATED FORAGING ARTICLES