Not as good as the true Saffron Milkcap but a tasty find none the less and more common.
| | |
| --- | --- |
| Mushroom Type | |
| Common Names | False Saffron Milkcap (EN), Spruce Milkcap, Cap Llaeth Saffrwm Ffug (CY), Mleczaj Świerkowy (PL), Lucfenyvesi Rizike (HU) |
| Scientific Name | Lactarius deterrimus |
| Season Start | Aug |
| Season End | Nov |
| Average Mushroom height (CM) | 10 |
| Average Cap width (CM) | 8 |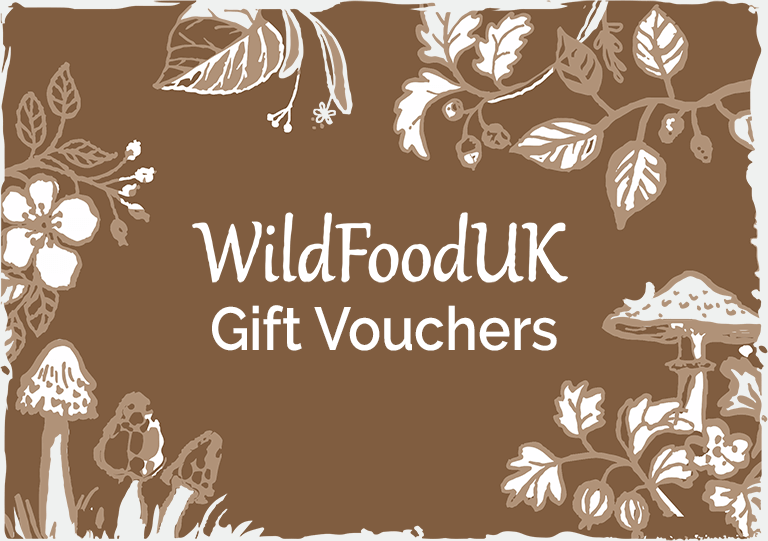 Please note that each and every mushroom you come across may vary in appearance to these photos.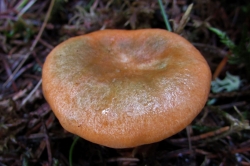 Cap
Orange with concentric darker or lighter lines with green patches. Starting convex but soon developing a depression in the middle and becoming 'funnel' shaped.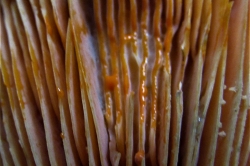 Milk
The milk is carrot orange, turning to wine red after about half an hour then eventually turning green.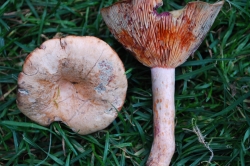 Possible Confusion
The Saffron Milkcap (Lactarius deliciosus), pictured, but the Saffron Milkcap has pits on the stem unlike the False Saffron Milkcap.
The poisonous Woolly Milkcap (Lactarius torminosus) but this has 'woolly' edges to the cap that extend in towards the stem and has off white milk not carrot coloured.
The Lactarius semisanguifluus is similar but has more red than orange milk.
Taste / Smell
Good but the bitterness from the milk can sometimes be tasted.
Spores
Pale ochre. Ellipsoid with a network of thick and thin ridges.
RELATED WILD FOOD RECIPES
RELATED FORAGING ARTICLES