The powdery nature of the caps of this mushroom make it one of the slightly easier Russulas to identify.
| | |
| --- | --- |
| Mushroom Type | |
| Common Names | Powdery Brittlegill (EN), Tegyll Brau Blodiog (CY), Gołąbek Chmurny (PL), Deres Galambgomba (HU) |
| Scientific Name | Russula parazurea |
| Season Start | Jul |
| Season End | Oct |
| Average Mushroom height (CM) | 8 |
| Average Cap width (CM) | 10 |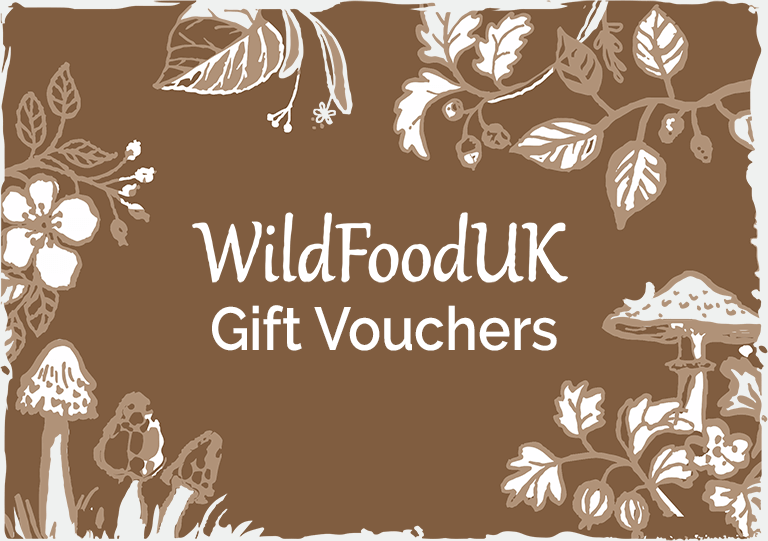 Please note that each and every mushroom you come across may vary in appearance to these photos.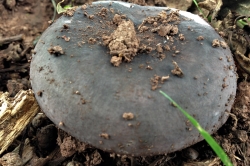 Cap
Grey, blue sometimes with a hint of green or even a violet tinge around the edge of the cap with a matt finish. Can feel a bit greasy when wet. The powdery bloom can wash off in older mushrooms.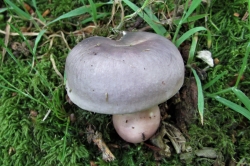 Possible Confusion
Other  grey Russulas like the Charcoal Burner, pictured, but these are edible if tested with the taste test, see identifying Russulas. The distinctive 'powdery' matt cap helps with the identification of this mushroom.
Spore Print
Pale cream. Subglobose.
Taste / Smell
Mushroomy, mild but can be slightly hot .
Other Facts
The Russula family split from other mushrooms, evolutionarily, many years ago and have round cells instead of most other living organisms which have elongated cells, this gives Russulas the common name Brittlegills as the cells make the mushroom brittle.
RELATED WILD FOOD RECIPES
RELATED FORAGING ARTICLES