This Amanita rarely seems to have remains of the veil stuck to the cap and the colour intensity varies greatly and can be from bright orange to pale yellow.
| | |
| --- | --- |
| Mushroom Type | |
| Common Names | Orange Grisette, Saffron Ringless Amanita, Amanita Benfelen (CY), Muchomor Żółtawy (PL), Narancsszínű Selyemgomba (HU) |
| Scientific Name | Amanita crocea |
| Season Start | Jul |
| Season End | Oct |
| Average Mushroom height (CM) | 14 |
| Average Cap width (CM) | 10 |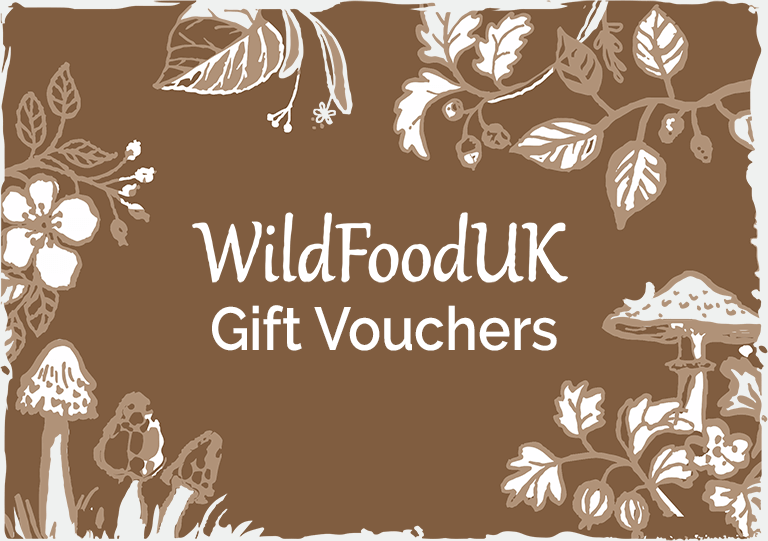 Please note that each and every mushroom you come across may vary in appearance to these photos.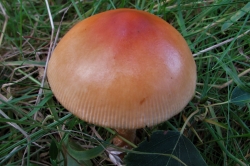 Cap
Starting egg shaped and then opening out to almost flat with a slightly darker umbo and radial striations at the edge of the cap. The colour can vary quite a bit but is usually yellow to orange.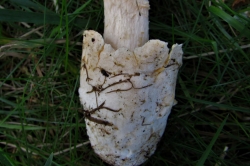 Volva
Has a very obvious thick, long and white volval sack that can often be hidden under the surrounding vegetation or earth.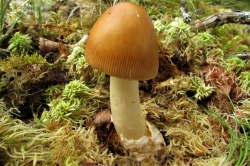 Possible Confusion
The Tawny Grisette (Amanita fulva), pictured, can look similar as the A. crocea can vary quite a lot in colour but the Tawny Grisette has a plain, smooth stem unlike the zig zag patterns on the Orange Grisette.
Spore Print
White, subglobose.
Taste / Smell
Fairly sweet and mushroomy.
RELATED WILD FOOD RECIPES
RELATED FORAGING ARTICLES