One of the less common members of the edible chanterelle family. It was considered a variety of the common chanterelle but is now regarded as a separate species. Just as tasty and sought after, it may be more common than is recorded but overlooked by people thinking it is the common form. Usually in groups. Only to be picked if abundant.
| | |
| --- | --- |
| Mushroom Type | |
| Common Names | Amethyst Chanterelle (EN), Pieprznik Ametystowy (PL), Ibolyás Rókagomba (HU) |
| Scientific Name | Cantharellus amethysteus |
| Synonyms | Cantharellus cibarius var. amethysteus |
| Season Start | May |
| Season End | Oct |
| Average Mushroom height (CM) | 10 |
| Average Cap width (CM) | 10 |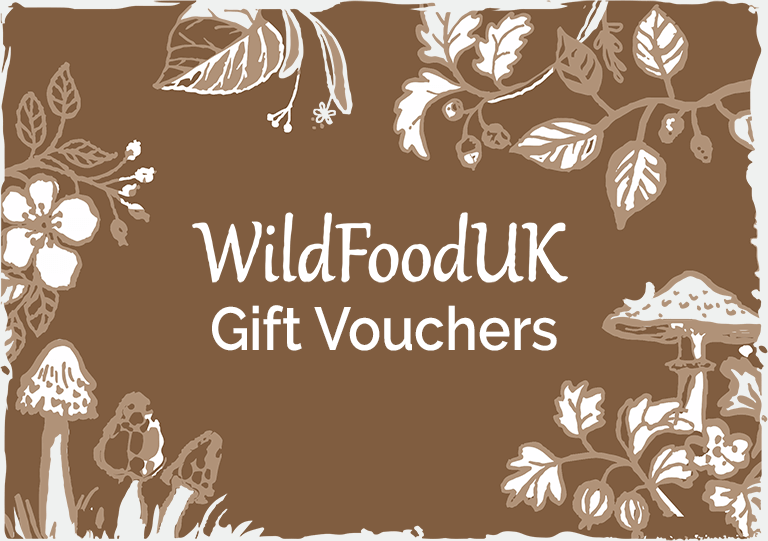 Please note that each and every mushroom you come across may vary in appearance to these photos.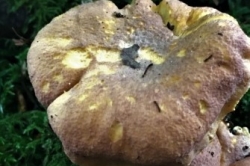 Cap
Flattened at first with irregular margin becoming depressed towards the centre. Often undulating all round the edges, less inclined to become funnel shaped than the common chanterelle. Yellow but with a complete or patchy coating (sometimes more towards the edge, sometimes more towards the centre) of tiny purplish scales that fade with age.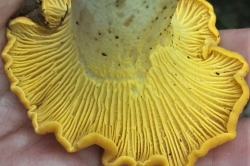 Gills
Does not have true bladed gills but forked, slightly rounded folds that look like gills. These run part way down the stem. Tend to be paler than the cap.
Flesh
White becoming yellow or brownish.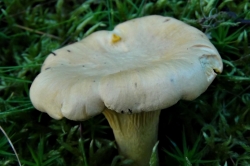 Possible Confusion
The purplish scales on the cap really leave little chance of confusion with anything else, not even the usual suspect with chanterelles, the false chanterelle. Likewise the poisonous Jack O'Lantern (Omphalotus illudens), this is a very rare mushroom in Britain, and it grows on deciduous wood, it has true gills and is dark orange in colour. Pale Chanterelle, pictured.
RELATED WILD FOOD RECIPES
RELATED FORAGING ARTICLES