Easy to identify and spot, this tasty mushroom can be found from December to March when there isn't that many other fungi about.
| | |
| --- | --- |
| Mushroom Type | |
| Common Names | Scarlet Elfcup (EN),, Cwpan Robin Goch (CY), Czarka Austriacka (PL), Osztrák Csészegomba (HU) |
| Scientific Name | Sarcoscypha austriaca |
| Season Start | Dec |
| Season End | Apr |
| Average Mushroom height (CM) | 3 |
| Average Cap width (CM) | 6 |
Please note that each and every mushroom you come across may vary in appearance to these photos.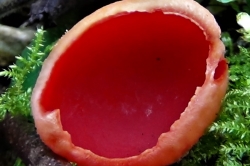 Cap
Vivid scarlet cup shaped cap. Initially deeply cup shaped flattening to a shallower disk shape, sometimes with split edges upon aging.
The cap has microscopic tubes called asci that release the spores from the upper 'cup' of the mushroom.
Habitat
Growing in clusters on dead wood particularly hazel and quite often hidden under leaf litter.
Possible Confusion
With its bright colour, shape and season it is very hard to confuse this mushroom with any other with the exception of the less common, almost identical and edible Ruby Elfcup (Sarcosypha coccinea), although several different sources confuse the two.

Spore Print
White. Ellipsiod to cylindrical. There are tiny oil droplets at either end of the spores.
Taste / Smell
A tasty mushroom, well worth the effort of cleaning. There is some controversy as to whether this mushroom can be eaten raw so play it safe and always cook them.
Frequency
Common but sometimes hiding in the leaf litter. When you find one look around there will almost always be more about.
Other Facts
One of a handful of mushrooms to be found at the coldest time of year this mushroom actually makes a 'puffing' sound when it explosively releases its spores. If a fresh mushroom is picked and then given a quick blow across the surface and held to the ear the sound is quite surprising (be careful not to fill your ear with spores, they are harmless but the thought of mushrooms growing in my ear brings on caution).
This mushroom must be cooked before consumption.
RELATED WILD FOOD RECIPES
RELATED FORAGING ARTICLES