Always a good find when out foraging from Summer through to Autumn. Last years 'stumps' can often be found as an indication that more will appear at some point in the year.
| | |
| --- | --- |
| Mushroom Type | |
| Common Names | Mosaic Puffball (EN), Coden Fwg Fanfraith (CY), Czasznica Oczkowata (PL), Pikkelyes Pöfeteg (HU) |
| Scientific Name | Lycoperdon utriforme |
| Synonyms | Bovistella utriformis, Handkea utriformis, Calvatia utriformis, Lycoperdon bovista |
| Season Start | Jul |
| Season End | Oct |
| Average Mushroom height (CM) | 12 |
| Average Cap width (CM) | 14 |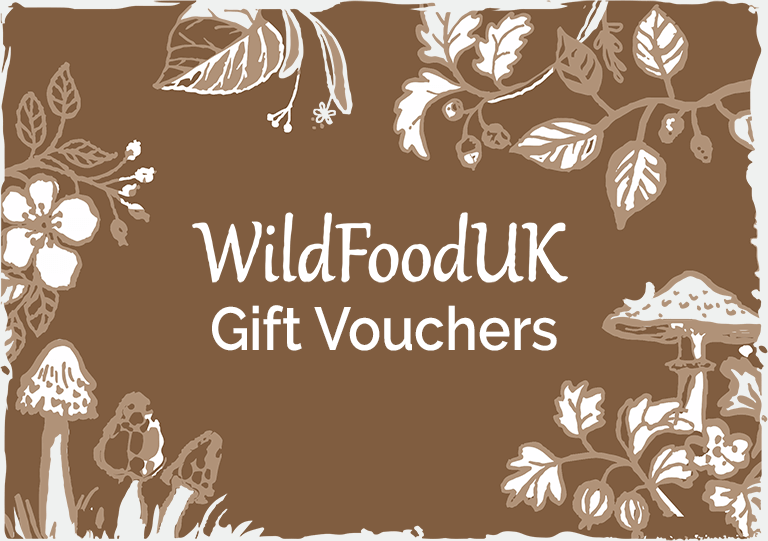 Please note that each and every mushroom you come across may vary in appearance to these photos.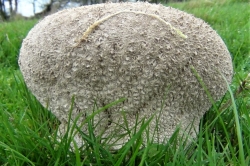 Fruiting Body
The young fruit body is usually spherical with a 'mosaic' like pattern of scales, as it matures it becomes loaf shaped and the scales become 'woolly', these will disappear and it will become smooth and brown before releasing it's spores. The brown 'stump' of a Mosaic puffball can often be found well into the following year.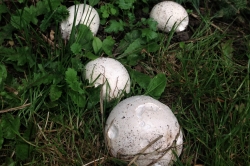 Possible Confusion
Other white puffballs but this is not a concern as white Puffballs are edible as long as they are pure white throughout. The Giant Puffball (Langermannia gigantea) is pictured.
Spore Print
The spores start inside the mushroom off white and change to yellow, darkening until they are brown and ready to be released.
Taste / Smell
A fairly tasty mushroom if picked before the flesh discolours.
Frequency
Occasional but can be found in large numbers in the right conditions.
Other Facts
The Mosaic Puffball has antibiotic properties and is affective against a number of bacteria.
RELATED WILD FOOD RECIPES
RELATED FORAGING ARTICLES