A beautiful and photogenic mushroom that it is considered toxic but not deadly.
| | |
| --- | --- |
| Mushroom Type | |
| Common Names | Fly Agaric (EN), Amanita'r Gwybed (CY), Muchomor Czerwony (PL), Légyölő Galóca (HU) |
| Scientific Name | Amanita muscaria |
| Season Start | Aug |
| Season End | Dec |
| Average Mushroom height (CM) | 20 |
| Average Cap width (CM) | 25 |
Please note that each and every mushroom you come across may vary in appearance to these photos.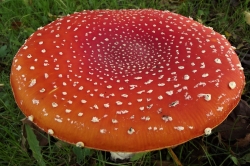 Cap
Hemispherical at first when it can sometimes be more orangey than red, then opening flat with a bright red cap covered in white to yellow scales which are the remains of the volvic sack. The scales can be washed off during rain to leave a smooth red cap.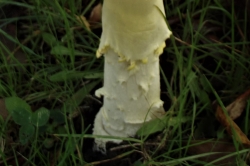 Stem
Appearing from a volva (a bulbous sack like structure) the stem is white with shaggy remains of the volva sticking to it, it also has a skirt higher up the stem.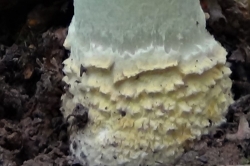 Volva
Has a bulbous volva with shaggy rings of scales around it rather than any guttering or sac like structure.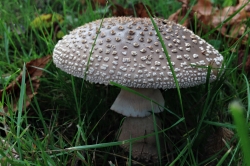 Possible Confusion
The Blusher (Amanita rubescens), pictured,  – where damaged shows pink red blushing,  has a striated ring and no striations on the margin of cap. While toxic raw it's edible when cooked.
The Grey Spotted Amanita (Amanita excelsa) – close relative of the Blusher, and fairly similar to it, without blushing and usually greyer colours. Although often not considered toxic it is not recommended.
The Panthercap (Amanita pantherina) – very closely related to the Fly Agaric with a darker brown cap. It contains exactly the same toxins as the Fly Agaric, but in more variable and usually higher concentrations.
The Jewelled Amanita (Amanita gemmata) – also closely related to the Fly Agaric and Panthercap, it could pass as a yellowish Fly Agaric (yellow forms of Fly Agaric exist). It might contain the same toxins as the other two but we couldn't find enough reliable information. Like the Panthercap some books report it as very poisonous, it is wiser to avoid it.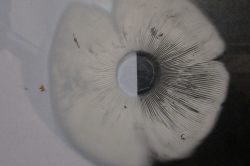 Spore Print
White. Ellipsoid. You should scrape your spores into a small pile to get an accurate spore colour.
Other Facts
The common name of this mushroom comes from the medieval practice of breaking up the caps and leaving them in milk to stupefy flies. This mushroom also has hallucinogenic properties which the Lapps have used traditionally in ceremonies and even to round up reindeer who seem to love them.
Considered very toxic in most modern field guides, and inclusively in our Wild Food UK guide and video, however in a distant past it was frequently consumed in parts of Europe, Asia and North America after preparation. Scientific studies show that there are methods to efficiently remove the toxins and render it safe for consumption, which explains its use in the past. This is something we weren't aware of until recently and doesn't seem to be common knowledge among modern foragers.
RELATED WILD FOOD RECIPES
RELATED FORAGING ARTICLES