An exciting find, this visually striking mushroom is not overly common. Poisonous, as with some other Amanita species it is often portrayed as deadly in field guides.
| | |
| --- | --- |
| Mushroom Type | |
| Common Names | Panthercap (EN), Amanita Panther (CY), Muchomor Plamisty (PL), Párducgalóca (HU) |
| Scientific Name | Amanita pantherina |
| Season Start | Jul |
| Season End | Nov |
| Average Mushroom height (CM) | 10-14 |
| Average Cap width (CM) | 8-12 |
Please note that each and every mushroom you come across may vary in appearance to these photos.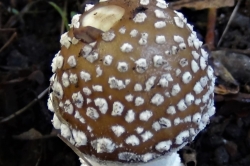 Cap
8-12cm. Convex, flattening a bit with age. Dark brown to slightly red brown covered in thick white scales or 'warts' left from the veil of the volva.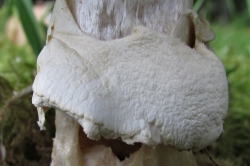 Skirt
Superior. The skirt does not have the striations or lines that the Blusher or Excelsa have and is smooth although in the photo the skirt is a bit dry and wrinkled but still striation free.
Possible Confusion
The Blusher (Amanita rubescens) has off-white, often blushing warts on its cap, and it blushes all over the fruit body where it had been damaged or cut, also there are striations on the upper surface of its skirt.
The Grey Spotted Amanita (Amanita excelsa) has off-white to grey warts or scales on its cap, and has striations on the upper surface of its skirt.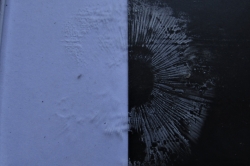 Spore Print
White. Broadly ovate. You should scrape your spores into a small pile to get an accurate spore colour.
Other Facts
Panthercap prefers acidic soil, while none of its potential lookalikes have this strong preference for acidic soil.
RELATED WILD FOOD RECIPES
RELATED FORAGING ARTICLES