An easily identified mushroom with a great taste that grows in many types of woodland.
| | |
| --- | --- |
| Mushroom Type | |
| Common Names | Terracotta Hedgehog (EN), Terracotta Wood Urchin, Rufous Hedgehog, Pigau Draenog Cochlyd (CY), Kolczak Rudawy (PL), Sárgásvörös Gereben (HU) |
| Scientific Name | Hydnum rufescens |
| Season Start | Sep |
| Season End | Dec |
| Average Mushroom height (CM) | 7 |
| Average Cap width (CM) | 4 |
Please note that each and every mushroom you come across may vary in appearance to these photos.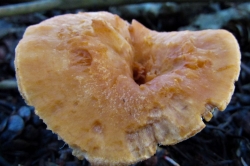 Cap
Terracotta, red orange coloured lighter towards the edges. It has a fine woolly texture with unevenly lobed edges and quite often the cap sits eccentrically on the stem.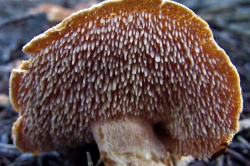 Spines
Has off white to pinkish spines that are easily brushed off. The spines do not run down the stem like they do on the Wood Hedgehog (Hydnum repandum).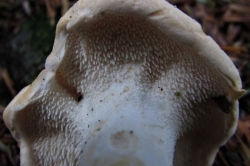 Possible Confusion
The Hedgehog Fungus (Hydnum repandum), pictured, is very similar but is usually lighter in colour and has a shorter stem with decurrent spines, (running down the stem).
Spore Print
White, Ellipsoid.
Taste / Smell
Mild but mushroomy.
RELATED WILD FOOD RECIPES
RELATED FORAGING ARTICLES