A common and tasty Waxcap but it still prefers undisturbed and untreated land although seems more tolerant than other Waxcaps.
| | |
| --- | --- |
| Mushroom Type | |
| Common Names | Snowy Waxcap (EN), Cap Cwyr Claerwyn (CY), Kopułka Śnieżna (PL), Fehér Nyirokgomba (HU) |
| Scientific Name | Hygrocybe / Cuphophyllus virgineus |
| Synonyms | Hygrocybe virginea |
| Season Start | Sep |
| Season End | Dec |
| Average Mushroom height (CM) | 6 |
| Average Cap width (CM) | 4 |
Please note that each and every mushroom you come across may vary in appearance to these photos.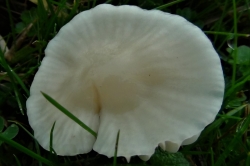 Cap
White to ivory white. Starting convex but soon flattening and becoming depressed in the middle. As the cap matures the colour generally goes from white to ivory to almost grey/brown.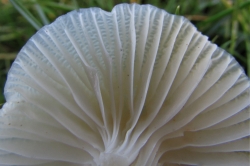 Gills
The gills are white, widely spaced and decurrent (running down the stem). There are veins or very small gills running at right angles between the main gills.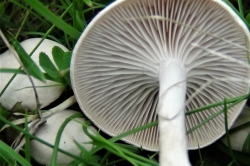 Possible Confusion
The Clitocybe rivulosa/dealbata, pictured, can look similar but the gills of the Fool's Funnel are quite crowded and not toothed and they tend to grow in different seasons but care should always be taken when foraging for white mushrooms.
The Cedarwood Waxcap (Cuphophyllus russocoriaceus) has a unique, cedarwood-like smell, its colour is more creamy white.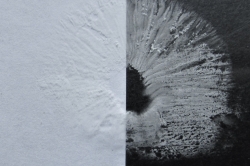 Spore Print
White. Ellipsoid. You should scrape your spores into a small pile to get an accurate spore colour.
Taste / Smell
Good, mushroomy.
Other Facts
Care should always be applied when foraging for mushrooms with a white cap, white gills and a white stem as some of the most poisonous mushrooms in the UK are white all over.
RELATED WILD FOOD RECIPES
RELATED FORAGING ARTICLES