Formerly a member of the genus Lepiota, this mushroom has undergone quite a few taxanomic changes and is now accepted as a member of genus Echinoderma (meaning hedgehog or porcupine like skin).
| | |
| --- | --- |
| Mushroom Type | |
| Common Names | Freckled Dapperling (EN), Pertyn Brych (CY), Jeżoskórka Ostrołuskowa (PL), Tüskés Őzlábgomba (HU) |
| Scientific Name | Echinoderma asperum |
| Synonyms | Lepiota aspera, Lepiota friesii, Cystolepiota aspera |
| Season Start | Aug |
| Season End | Nov |
| Average Mushroom height (CM) | 10 |
| Average Cap width (CM) | 13 |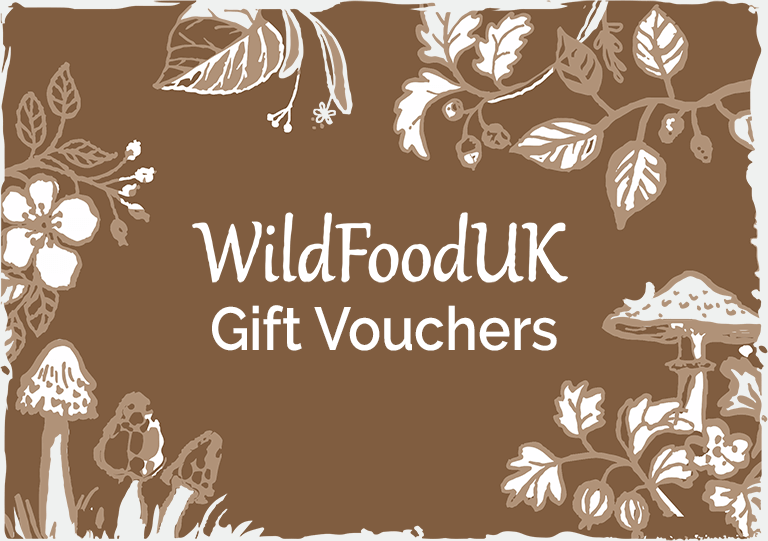 Please note that each and every mushroom you come across may vary in appearance to these photos.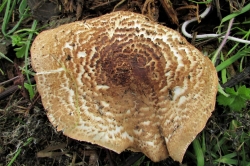 Cap
The cap is tan/pale brown with dark brown pyramid scales especially concentrated in the middle. The cap starts convex but opens out flat to having upturned edges with age.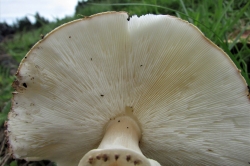 Gills
White and very crowded and free from the stem. Young mushrooms have a cotton like veil covering the gills rather like a Cortinarius.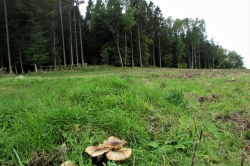 Habitat
Mainly deciduous woodland or on woodchip in parks or gardens. More frequent in Southern Britain.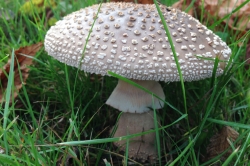 Possible Confusion
Can look like the rarer Echinoderma hystrix.
Has a passing resemblance to The Blusher (Amanita rubescens), pictured.
Spore Print
White. Dextrinoid.
Other Facts
The edibility of this mushroom seems unknown and it has been shown to have adverse effects when consumed with alcohol so we don't recommend consumption of this mushroom.
RELATED WILD FOOD RECIPES
RELATED FORAGING ARTICLES