A fairly large, tasty mushroom that is common and can be found quite late in the year.
| | |
| --- | --- |
| Mushroom Type | |
| Common Names | Meadow Waxcap (EN), Cap Cwyr y Ddôl (CY), Kopułka Łąkowa (PL), Élénkszínű Nyirokgomba |
| Scientific Name | Hygrocybe / Cuphophyllus pratensis |
| Synonyms | Hygrocybe pratensis |
| Season Start | Sep |
| Season End | Dec |
| Average Mushroom height (CM) | 8 |
| Average Cap width (CM) | 10 |
Please note that each and every mushroom you come across may vary in appearance to these photos.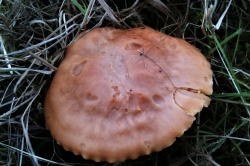 Cap
Convex to flat to having upturned edges with a wide umbo and thick flesh. Tawny orange to buff. A bit waxy looking and feeling. The cap can crack deeply with age.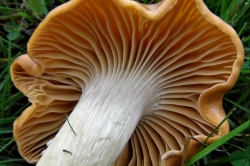 Gills
Gills cream to orange/straw coloured. Thick waxy and running down the stem. Quite widely spaced. There are veins or very small gills running at right angles between the main gills, in older mushrooms these can become wrinkled.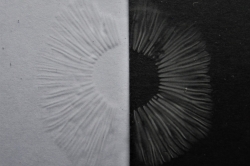 Spore Print
Off white to cream. Ellipsoid. You should scrape your spores into a small pile to get an accurate spore colour.
Taste / Smell
Mushroomy. This is the best in the family for edibility having both a good taste and thick flesh.
Other Facts
One of the commonest Waxcaps with large mushrooms and a good taste so one for the table.
RELATED WILD FOOD RECIPES
RELATED FORAGING ARTICLES