A rather pale and slimy Waxcap found on Heaths or shortly cropped grass, particularly where moss is also growing. There are two forms of Heath Waxcap that can be found in the UK, the more common orange form is shown here, there is a rarer yellow variant.
| | |
| --- | --- |
| Mushroom Type | |
| Common Names | Heath Waxcap (EN), Cap Cwyr y Rhosydd (CY), Wilgotniczka Jasna (PL), Nyálkás Nedűgomba (HU) |
| Scientific Name | Hygrocybe / Gliophorus laetus |
| Synonyms | Hygrophorus laetus, Hygrocybe laeta |
| Season Start | Aug |
| Season End | Dec |
| Average Mushroom height (CM) | 4 |
| Average Cap width (CM) | 3 |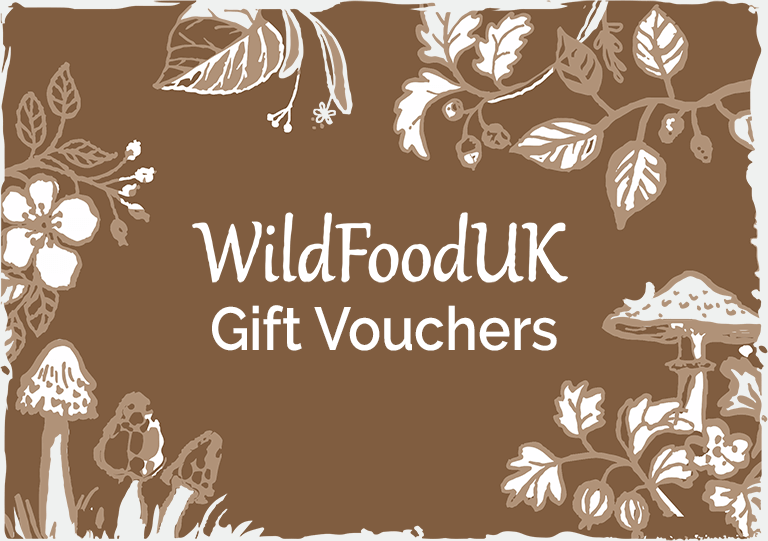 Please note that each and every mushroom you come across may vary in appearance to these photos.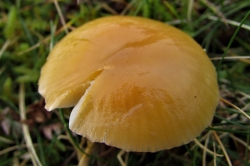 Cap
Pale orange to tawny brown. Domed to start with but soon flattening out. The cap develops clear striations in line with the below gills and the edge of the cap can become ragged or toothed.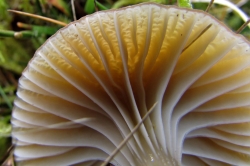 Gills
Pale grey/off white to start with then turning salmon pink. Decurrent and widely spaced with tiny 'gills' or veins running laterally between the gills. The edge of the gills can be slimy.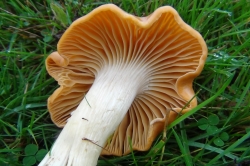 Possible Confusion
The Meadow Waxcap (Cuphophyllus pratensis) can look similar but is a bigger, more robust mushroom and generally drier feeling than the Heath Waxcap. Also, Parrot Waxcap (Gliophorus psittacinus) could be really variable in colour and sometimes might look rather similar than the orange form of Heath Waxcap.
Spore Print
White. Ellipsoid.
Taste / Smell
Can smell of burnt rubber.
Frequency
Fairly common in the right environment.
Other Facts
Although edible, Waxcaps in general and their environments are becoming rarer so we advise leaving this mushroom to grow in peace.
RELATED WILD FOOD RECIPES
RELATED FORAGING ARTICLES