A safe mushroom for the novice forager as there are no look-a-likes in the UK.
| | |
| --- | --- |
| Mushroom Type | |
| Common Names | Field Blewit (EN), Pied-Violet (FR), Blue-Leg (US), Coes Las y Maes (CY), Gąsówka Dwubarwna (PL), Lilatönkű Pereszke |
| Scientific Name | Lepista personata |
| Synonyms | Lepista saeva, Clitocybe saeva |
| Season Start | Oct |
| Season End | Jan |
| Average Mushroom height (CM) | 6 |
| Average Cap width (CM) | 12 |
Please note that each and every mushroom you come across may vary in appearance to these photos.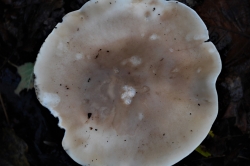 Cap
Greyish brown to beige and very smooth. Starting convex becoming flattened or even depressed with an inrolled margin in younger specimens.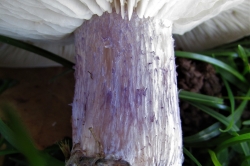 Stem
Off white with a blue/lilac, vertically fiborous covering. Chunky short and often swollen at the base.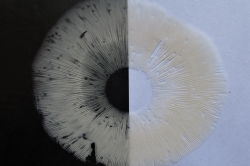 Spore Print
Off white to Pale pink. Ellipsoid with small spines. You should scrape your spores into a small pile to get an accurate spore colour.
Taste / Smell
Perfumed and mushroomy. Must be cooked before consumption.
Other Facts
A great tasting mushroom with a good texture and usually growing in rings or groups. This mushroom keeps growing into winter and only a really harsh frost will finish them off, I have found some in February before.
The Blewits like the cold and only start to appear when the temperature is constantly below 17 degrees.
Must be cooked before consumption.
RELATED WILD FOOD RECIPES
RELATED FORAGING ARTICLES