Three-Cornered Leek

Edible

Autumn

Spring

Summer

Winter
An invasive species brought over to the UK from the Mediterranean, it is an offence under Schedule 9 of the Wildlife and Countryside Act in England and Wales to plant or otherwise cause to grow this species in the wild.
| | |
| --- | --- |
| Hedgerow Type | |
| Common Names | Three-Cornered Leek, Snowbell |
| Scientific Name | Allium triquetrum |
| Season Start | Jan |
| Season End | Jan |
Please note that each and every hedgerow item you come across may vary in appearance to these photos.
Leaves
Long, thin and green which if looked at in profile is a very shallow 'V' shape. The leaf here is showing the underside.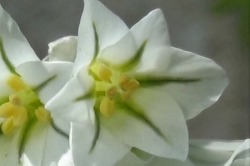 Flowers
Hanging in clusters very much like a white bluebells with six petals, each with a green stripe, and can flower at almost any time of year, sometimes twice a year.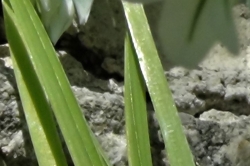 Stem
The flower stem is like the leaves but more triangular in profile than the leaves, hence the common name, Three-Cornered Leek.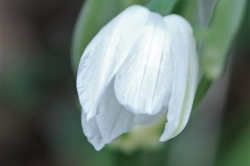 Possible Confusion
Few-Flowered Garlic, pictured, is very similar but has plain white petals and develops bulbils after the flowers.
Snowdrops, young bluebells, young daffodils or some lilies but none of these smell of garlic or onion.
Taste
A bit like spring onion or baby leeks or chives.
Frequency
Fairly uncommon but prolific where established and spreading fast.
Collecting
All of the plant is edible. The young plants can be uprooted when found in profusion and treated as baby leeks or spring onion, the leaves and flowers can be used in salads or the leaves in soups or stews, the more mature onion like roots can be used as onion or garlic.
Medicinal Uses
All the Alliums are good for high blood pressure in varying degrees.
Other Facts
The juice has been reported as being used as a moth and other insect repellent.
RELATED WILD FOOD RECIPES
RELATED FORAGING ARTICLES