This Agaricus species is native to North America and was regarded as a choice edible and cultivated. It is part of the Agaricus sub section containing the horse mushroom Agaricus arvensis and the Prince. These all have an almondy smell. The almond mushroom occurs in large groups unlike the Prince which tends to occur in groups of 2 or 3.
| | |
| --- | --- |
| Mushroom Type | |
| Common Names | Almond Mushroom, Almond Agaricus, Mandulagomba (HU), Himematustake (JP) |
| Scientific Name | Agaricus subrufescens |
| Synonyms | Agaricus brasiliensis, Agaricus rufotegulis, Agaricus blazei |
| Season Start | Jul |
| Season End | Sep |
| Average Mushroom height (CM) | 3-10 |
| Average Cap width (CM) | 2-10 |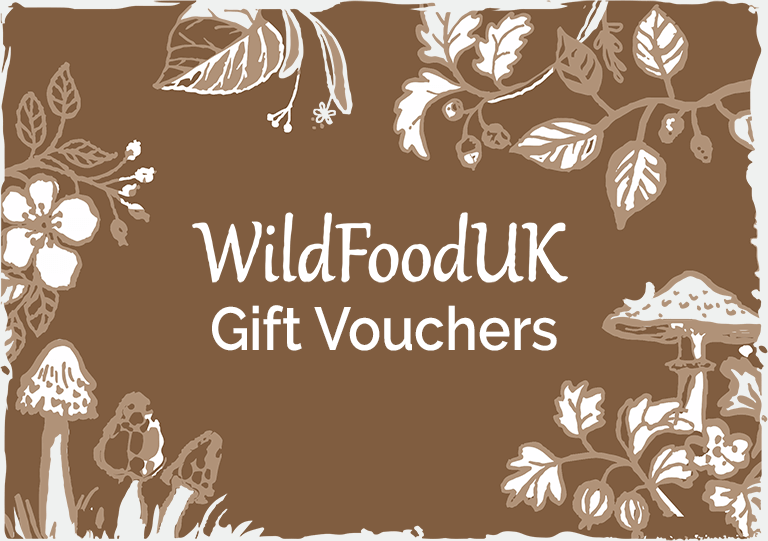 Please note that each and every mushroom you come across may vary in appearance to these photos.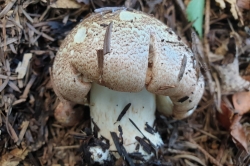 Cap
Convex, 3 – 10cm, brown in the centre when young. Flattening with age with the brown splitting into scales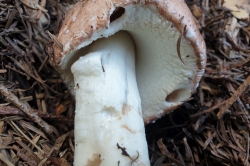 Stem
Stout (1-7cm long, 1-2cm thick), slightly bulbous base, white, with cottony layer (easily compressed with handling) at the top.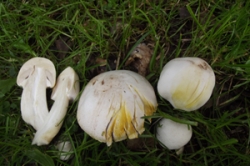 Possible Confusion
As with all Agaricus sp. the toxic yellow stainer and inky mushroom are the ones to eliminate. The almond smell of A. subrufescens will rule out both of these chemical smelling species. 
Taste / Smell
Sweet and nutty.
Frequency
Uncommon but increasing.
Other Facts
This mushroom was cultivated as a choice edible in the U.S.A
RELATED WILD FOOD RECIPES
RELATED FORAGING ARTICLES