A common tree rotting fungus found in dense clusters at the base of living trees as well as stumps and logs.
| | |
| --- | --- |
| Mushroom Type | |
| Common Names | Spectacular Rustgill (EN), Laughing Jim (US), Tagell Goch Fawr (CY), Łysak Wspaniały (PL), Aranysárga Lánggomba (HU) |
| Scientific Name | Gymnopilus junonius |
| Synonyms | Pholiota spectabilis. Pholiota junonius, Gymnopilus spectabilis |
| Season Start | May |
| Season End | Dec |
| Average Mushroom height (CM) | 12 |
| Average Cap width (CM) | 15 |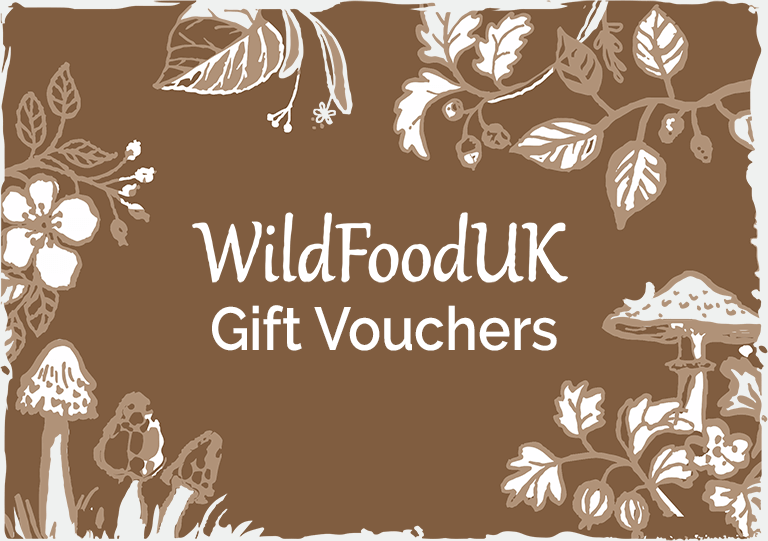 Please note that each and every mushroom you come across may vary in appearance to these photos.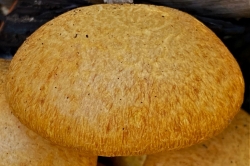 Cap
Convex to start, expanding to almost flat. Varying in colour from golden yellow to deep orange and covered in small, slightly darker scales making the cap look very fibrous.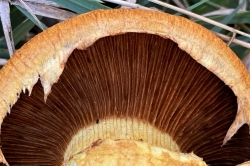 Gills
Initially covered by a veil and starting yellow, darkening with age to dull orange brown. Crowded and slightly decurrent with a thin band of vertical striations at the apex of the stem.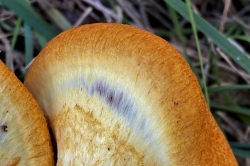 Cortina / Veil
A very pale yellow to white cobweb like veil covers the gills on a young mushroom. This will come away but can leave remnants on the cap edge and stem.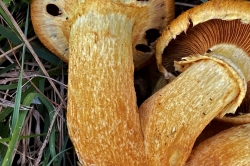 Stem
Cap coloured and fibrous below the ring, usually swollen towards the base but narrowing at the very bottom. Above the ring, the stem is lighter in colour and less fibrous with a narrow band of vertical striations at the apex.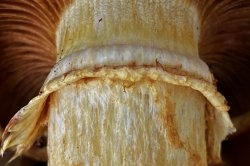 Skirt
Has a membranous ring that starts off white to pale yellow but soon becomes darkened as it is covered in rust brown spores.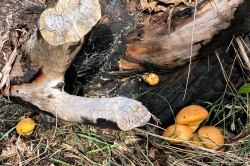 Habitat
Commonly found at the base of living trees but can also be found on stumps and logs. Mainly growing on deciduous trees and remains but can be found on conifer stumps.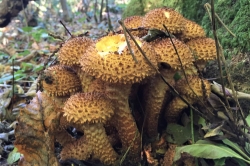 Possible Confusion
The Shaggy Scalycap (Pholiota squarrosa) can look similar and grows in similar environments but it is much more 'shaggy' with a shaggy stem that the Spectacular Rustgill lacks.
Spore Print
Rust brown. Ellipsoid to almond shaped.
Other Facts
Some species from America have been found to contain psilocybin but this has not been found in European species.
RELATED WILD FOOD RECIPES
RELATED FORAGING ARTICLES