Poisonous causing alarming symptoms but not affecting everybody. Don't take a chance!
| | |
| --- | --- |
| Mushroom Type | |
| Common Names | Magpie Inkcap (EN), Magpie Fungus, Cap Inc Du a Gwyn (CY), Czernidłak pstry (PL), Harkálytintagomba (HU) |
| Scientific Name | Coprinopsis picacea |
| Synonyms | Coprinus picaceus |
| Season Start | Sep |
| Season End | Dec |
| Average Mushroom height (CM) | 25 |
| Average Cap width (CM) | 5 |
Please note that each and every mushroom you come across may vary in appearance to these photos.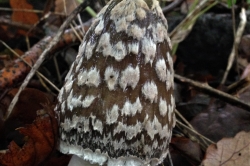 Cap
Elongated finger-like shape opening to a cone. Appearing white and shaggy with a black background turning brown/grey to black and then 'melting'.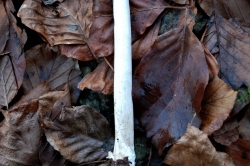 Stem
White, narrow, usually hollow and with a white movable skirt, sometimes stained black with spores and can have a slightly hairy bulbous base.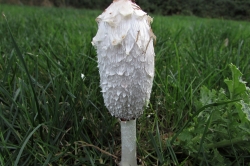 Possible Confusion
The Shaggy Inkcap (Coprinus comatus), pictured, has a white cap with white scales, the Magpie Inkcap has a black cap with white scales.
Spore Print
Black. Ellipsoid.
Other Facts
The resulting mess from leaving this mushroom to deliquesce can be used as a viable ink.
RELATED WILD FOOD RECIPES
RELATED FORAGING ARTICLES