This mushroom is absolutely delicious but has an extremely short shelf life. If you leave one on your table overnight you will come down to a black ink stain in the morning.
| | |
| --- | --- |
| Mushroom Type | |
| Common Names | Shaggy Inkcap (EN), Lawyer's Wig (EN), Judges Wig, Cap Inc Aflêr (CY), Czernidłak Kołpakowaty (PL), Gyapjas Tintagomba (HU) |
| Scientific Name | Coprinus comatus |
| Season Start | Apr |
| Season End | Nov |
| Average Mushroom height (CM) | 40 |
| Average Cap width (CM) | 15 |
Please note that each and every mushroom you come across may vary in appearance to these photos.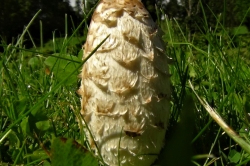 Cap
Finger shaped, long cylindrical cap starting to melt from the bottom edges into a conical shape. White with off-white/pale tan scales turning grey black, can have a pink tinge.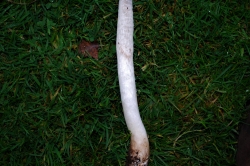 Stem
White sometimes hollow, long, thin and with a slight ring that detaches easily. Slightly swollen base.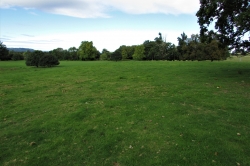 Habitat
Grows in grass by the sides of roads, lawns, flower beds, grassland and recently disturbed soil. Can be found individually or in large numbers.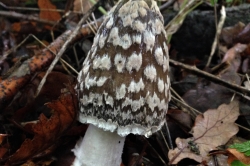 Possible Confusion
A distinctive mushroom with only the Magpie Inkcap (Coprinopsis picacea) looking similar but the two can be separated by the Magpie Inkcap, pictured, having light scales on a dark background and the Shaggy Inkcap having a white background with white or slightly darker scales.
Spore Print
Blackish brown. Ellipsoid.
Taste / Smell
Very good when young. One of my favorites for creamy sauces and because it can found in large numbers. Should be cooked before consumption.
Other Facts
One of these delicate mushrooms was reported as lifting a 75 by 60 centimetre paving slab 4 centimetres in 48 hours.
If you cook with these when the caps are on the turn, they will dye everything you cook with them black.
If the caps have started to open when you pick them you will have to eat them that day. Young ones may last 48 hours in the fridge if you are lucky. You can make younger ones last a bit longer in the fridge if you remove the stem before chilling; this seems to delay the transformation into ink.
You can also make some very good ink from them. To do this mix the inkcap ink with a little water and some cloves and heat it. This process will help fix the ink and stop it from fading or running when you use it.
RELATED WILD FOOD RECIPES
RELATED FORAGING ARTICLES