A very common Suillus when around Larch trees. The Suillus grevillei var. badius is rarer, has a chestnut brown cap and is mainly found in Western Scotland.
| | |
| --- | --- |
| Mushroom Type | |
| Common Names | Larch Bolete (EN), Greville's Bolete, Boled Llarwydd (CY), Maślak Żółty (PL), Sárga Gyűrűstinóru (HU) |
| Scientific Name | Boletus / Suillus grevillei |
| Season Start | Jul |
| Season End | Nov |
| Average Mushroom height (CM) | 10 |
| Average Cap width (CM) | 15 |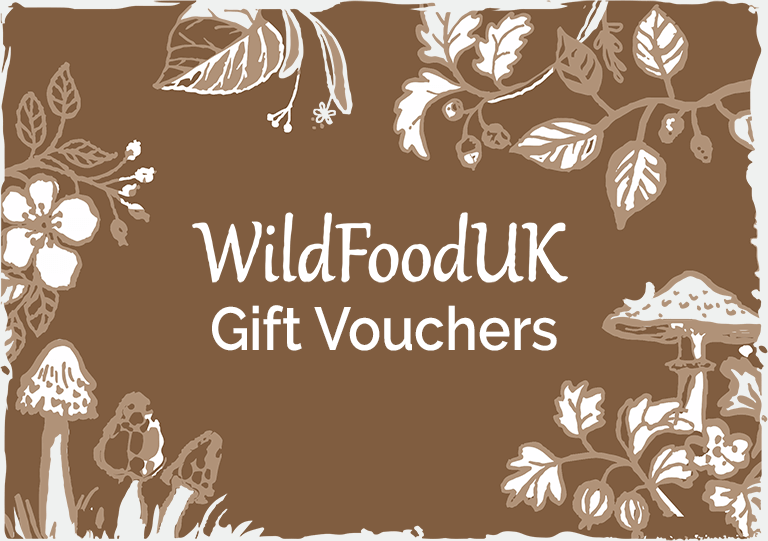 Please note that each and every mushroom you come across may vary in appearance to these photos.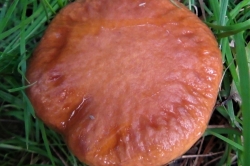 Cap
Bright yellow, darkening to burnt orange on older specimens. Starting convex but flattening in older mushrooms. The cap is viscid and looks shiny even when the weather is dry and is covered in slime. The variant badius has a chestnut brown cap.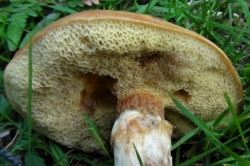 Pores
Sponge like, angular, bright yellow pores that darken with maturity and will bruise a rust colour.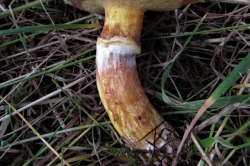 Stem
Yellow with brown scales underneath the veil like skirt and smooth above. Before the mushroom fully opens the pores are covered by a fine web like veil which joins the edge of the cap to the stem, when this comes away it forms the skirt.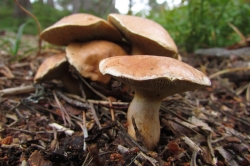 Possible Confusion
Growing under Larches and being a Suillus, part of the Bolete family, it is difficult to mistake this mushroom for anything other than the Bovine Bolete (Suillus bovinus), pictured, but this does not have a skirt.
When young, the fine web like veil covering the pores could lead you to misidentify this mushroom with a few of the Cortinarius species.
Spore Print
Oche-sienna coloured. Subfusiform.
Taste / Smell
This mushroom holds so much water that it really needs drying to get a flavour and texture from but as it holds so much water it dries to next to nothing, otherwise it can be added to soups and stews to bulk them out. Should be cooked before consumption.
Other Facts
It is best to remove the skin of the cap, because of the slime, and the pores as it is these that can produce gastric upsets in some people. Must be cooked before consumption.
Suillus are not the best mushrooms when used fresh but are improved by slicing, drying and then re-hydrating.
RELATED WILD FOOD RECIPES
RELATED FORAGING ARTICLES