A great tasting gourmet mushroom and although small can usually be found in large numbers.
| | |
| --- | --- |
| Mushroom Type | |
| Common Names | Fairy Ring Champignons (EN), Fairy Ring Mushrooms, Elf Rings, Scotch Bonnets, Madarch Cylch (CY), Twardzioszek Przydrożny (PL), Mezei Szegfűgomba (HU) |
| Scientific Name | Marasmius oreades |
| Season Start | Apr |
| Season End | Nov |
| Average Mushroom height (CM) | 8 |
| Average Cap width (CM) | 5 |
Please note that each and every mushroom you come across may vary in appearance to these photos.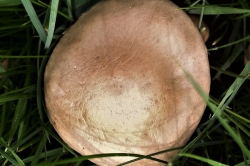 Cap
Convex/conical opening flat with a wide umbo. Pale tan coloured usually with a slightly darker umbo.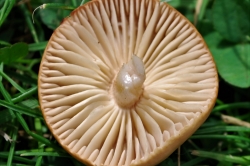 Gills
Gills white turning pale tan/cream. Not crowded. The gills are free of  the stem, this is an important identification feature.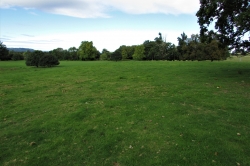 Habitat
Usually in rings or semi rings of varying diametres, depending on the age of the parent fungi under ground. Found in short grass on lawns, roadside verges, parks and pasture.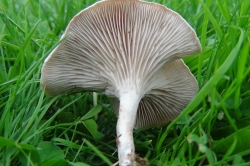 Possible Confusion
Clitocybe rivulosa/dealbata which grows in similar habitats and in similar rings towards the middle and end of the Fairy Ring season. The main difference between the two is that the gills of C. rivulosa run down the stem (decurrent) and those of the Fairy Ring are not attached to the stem. Also the edge of the cap of C. rivulosa mainly stays in-turned even when the mushroom has opened out. The colours are different with the C. rivulosa being lighter to white with concentric rings sometimes visable on the cap while the Fairy Ring is more light tan often with a slightly darker, wide umbo in the centre of the cap. Care should be taken when identifying this mushroom.
Spore Print
White. Ellipsoid.
Taste / Smell
Excellent, mushroomy.
Other Facts
Very common in late spring early summer but towards the end of the season they generally become too infested with maggots.
Easy to spot as the grass grows taller and greener in the ring. The ring is produced because the mycelium feed the grass with water and nutrients and get sugars back in return.
The best mushroom to dry, they will dry without slicing just left on some paper for a few days. When rehydrated they change back to when the mushroom was fresh.
RELATED WILD FOOD RECIPES
RELATED FORAGING ARTICLES