Damsons
19th September 2019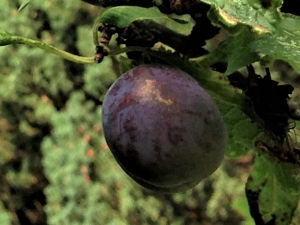 Damsons – the most rocking fruit.
These have to be the most rocking of fruit with their 'Deep Purple' colour and perfect blend of fruitiness and tartness. At this time of the year a heavily laden damson tree will bring joy to the heart of those in the know. Many people have never tasted this relative of the plum, and so don't know what they are missing.
Some botanists regard all of the plums, damsons, bullaces, and greengages as hybrids of the humble sloe, others suggest they are cross breeds with the yellow cherry plum. The sloe is Prunus spinosa and all the rest are varieties of Prunus domestica ssp insititia (like dogs are all varieties of Canis lupus familiaris).
Sloes have a very characteristic green flesh to their blue bloomed dark purple fruit, as do damsons but they are around 15-30mm in length to the sloes 10-12mm. Damson foliage is almost free from thorns unlike it's smaller cousin, enabling pain free picking. If you ever find a slightly thorny oversized sloe bush then you likely have a bullace. These hybrids fall between damsons and sloes and are thought to be another man-made cultivar. Research through old plant catalogues suggests there were types available in different areas but all broadly identifiable as bullaces. Damsons are to this day available in many varieties such as from commercial nurseries 'wild' damsons, bullaces and plums are almost always found in association with human habitation.
Damsons were introduced by the Romans (like nettles and ground elder) and the origins of their name gives a hint to their aged lineage – 'the plum of damascus'. It remained a favourite with the stones being found in Anglo-Saxon archaeological sites. Over two millennia and with further breeding on the continent it has become peculiar to the British Isles, only the slightly larger damascene is found in Europe.
So what can we do with our damsons? Some people would say the best jam in the world is damson jam, and I would agree. It does take more effort than strawberry or raspberry, but every seconds effort is worth it. The broad process is the same as most jams, equal amounts of damsons and sugar, then heat in a big pan, but here comes the crux, the stones. These have to be removed, and there are two possible ways. First up is treat the damsons like plums and cut the stones out before cooking, this is slow, messy and results in loosing half of the flesh. You can use an olive stoner but 2 out of 3 stones wont pass through the hole so that's not much help, and I haven't come across a damson stoner (but maybe modifying the olive stoner might work?).
The other method of removing the damson stones from the mix is at the cooking stage. Mix the damsons and the sugar and heat, slowly at first to melt the sugar without burning. The damsons will break up as they heat or you can help them by using a potato masher to gently squash them against the bottom of the pan. As the whole purple vat liquefies the stones should start coming to the surface, certainly once it starts to boil. Now use an implement like a wire skimmer to trawl through the liquid lifting out masses of stones and discarding them. If it is a big batch you won't have time to remove all the stones before it has cooked too long so I tend to start the process as soon as I have liquid, and because I value every drop of damson jam I then use a teaspoon to get the stones off the scoop leaving all the flesh behind. This can take some time, but finally when no more stones are forthcoming, get a rolling boil for around 10 minutes. Test for a set using the plate in the freezer technique (put a drop of the liquid on the cold plate and if it sets the jam is ready) and put it in your sterilised jars. Voila, the best jam in the world.
For something portable I suggest damson fruit leather. Fruit leathers are really just a set jam i.e process your damsons as for jam to the point prior to bottling, then strain the liquid through a jelly bag or muslin cloth. This removes all of the solids such as the skins and any remaining stones (there will be some stones despite your best efforts). Put the liquid onto a flat heatproof surface, ideally a silicone baking sheet, but greaseproof paper or a non stick baking tray will work. Spread it out until it forms a layer 1-3mm thick and either place it in an oven on its lowest heat setting with the door slightly open or overnight, or better still in a dehydrator. Periodically test to see if it has set and when done take it out and roll it into sausages and cut it into short lengths. I find a dusting of icing sugar stops the pieces from all sticking together and job done, fruit leather. A chewy piece of damson goodness.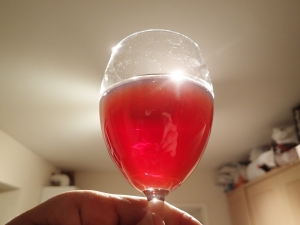 For a final suggestion of things to do with damsons is to make wine, damson wine. The trouble is that means making less jam, a dilemma as wine does require a lot of damsons, 1.4kg for every 5l of wine. However damson wine is probably the best country wine, a wine reserved for the most esteemed of visitors, so esteemed in fact they haven't turned up in my house yet! The stunning amber coloured wine keeps all the flavour of the fruit with only a hint of the pectin haze found in plum wine (which is a pale imitation) and when made dry is something to behold. Cheers!