Although this mushroom looks like a deadly Amanita it is edible if you like the taste of raw potatoes.
| | |
| --- | --- |
| Mushroom Type | |
| Common Names | White False Death Cap |
| Scientific Name | Amanita citrina var. alba |
| Season Start | Jul |
| Season End | Nov |
| Average Mushroom height (CM) | 8 |
| Average Cap width (CM) | 12 |
Please note that each and every mushroom you come across may vary in appearance to these photos.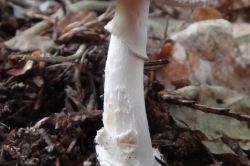 Stem
Pure white with an obvious volval sack and a bulbous base. The stem can be hollow in older specimens.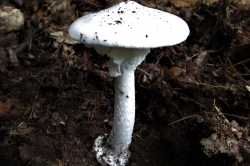 Possible Confusion
The Destroying Angel (Amanita virosa), pictured, or the Deathcap (Amanita phalloides), it is because of this possible confusion and its vile taste that we leave this mushroom well alone. Although edible, not one for eating.
Spore Print
White. Spherical.
Taste / Smell
Unpleasant, like raw potato.
RELATED WILD FOOD RECIPES
RELATED FORAGING ARTICLES