The most poisonous mushroom in the UK along with the Destroying Angel.
| | |
| --- | --- |
| Mushroom Type | |
| Common Names | Deathcap (EN), Death Cap (US), Cap Marwol (CY), Muchomor Zielonawy (PL), Gyilkos Galóca (HU) |
| Scientific Name | Amanita phalloides |
| Season Start | Jul |
| Season End | Nov |
| Average Mushroom height (CM) | 15 |
| Average Cap width (CM) | 12 |
Please note that each and every mushroom you come across may vary in appearance to these photos.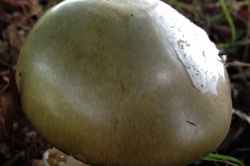 Cap
Convex at first looking a little like a Puff Ball then opening and flattening. Olive/green sometimes with a flush of tan or yellow. Slimy when wet but still looking shiny when dry.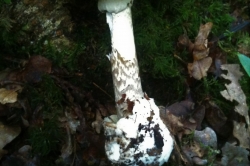 Stem
White with a  bulbous base and surrounded by a thin veil (volva) which is sack-like at ground height, tapering slightly towards the cap. The top of the volva will often be found attached to the stem more than halfway up, looking like a skirt.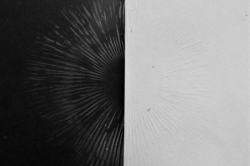 Spore Print
White. Ellipsoid to subglobose. You should scrape your spores into a small pile to get an accurate spore colour.
Taste / Smell
DO NOT try any part of this mushroom.
Frequency
Uncommon but can become more frequent some years when the conditions are right.
Other Facts
Although causing the most fatalities this deadly fungus has no known antidote. The symptoms start several hours after ingestion with severe vomiting, diarrhoea and abdominal pains and can last for a few days; this is followed by what seems to be a full recovery for a few days but ending in death from kidney and liver failure. The main poison, alpha-amanitin, kills liver cells and passes through the kidneys to be recirculated and cause more damage.
RELATED WILD FOOD RECIPES
RELATED FORAGING ARTICLES