Unlike the name suggests the Weeping Widow is not a poisonous mushroom but has a bitter taste making it rather inedible.
The 'weeping' seems to refer to the droplets of water, usually blackened by the spores, that drip from the edges of the cap.
| | |
| --- | --- |
| Mushroom Type | |
| Common Names | Weeping Widow (EN), Dagrau'r Weddw (CY), Kruchawica Aksamitna (PL), Könnyező Szálkásgomba (HU) |
| Scientific Name | Lacrymaria lacrymabunda |
| Season Start | Jun |
| Season End | Nov |
| Average Mushroom height (CM) | 8 |
| Average Cap width (CM) | 10 |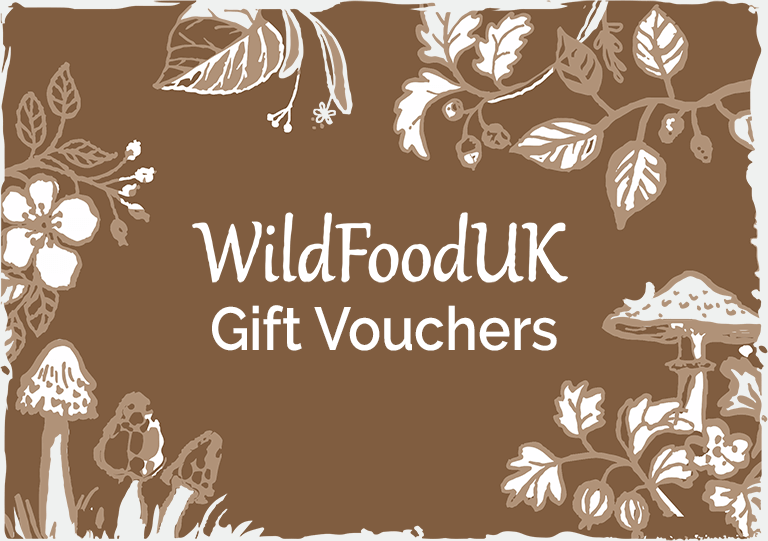 Please note that each and every mushroom you come across may vary in appearance to these photos.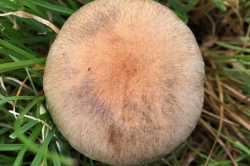 Cap
At first bell shaped then flattening out but retaining an umbo. Tan-ochre with yellow and red-brown hints. The cap has a fibrous-wooly appearance with the fibres running from the centre of the cap to the edges where they can hang and give the edge of the cap a woolly fringe that can be stained black by the spores and can 'weep' droplets of water.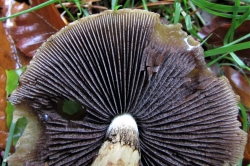 Gills
Initially covered in a cobweb like veil the gills start yellow-brown then turn dark brown-purple with a light edge turning black with the release of spores. Quite crowded.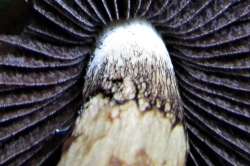 Skirt
Has ring zone where the veil breaks away rather than a skirt. This can become blackened by the spores.
Possible Confusion
A distinctive mushroom.
Spore Print
Black. Ellipsoid.
Taste / Smell
Bitter. Should be cooked before consumption.
RELATED WILD FOOD RECIPES
RELATED FORAGING ARTICLES