A very common Autumn mushroom you'll see on every foray in the woods.
Mushroom Type
Common Names
Sulphur Tuft (EN), Torth Felen (CY), Maślanka Wiązkowa (PL), Sárga Kénvirággomba (HU)
Scientific Name
Hypholoma fasciculare
Season Start

All

Year
Season End

All

Year
Average Mushroom height (CM)
10
Average Cap width (CM)
7
Please note that each and every mushroom you come across may vary in appearance to these photos.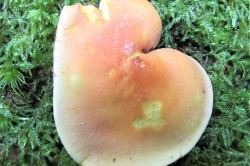 Cap
Conical. Sulphur yellow paling towards the edge aging to yellow/brown. Slight remains of veil often left hanging from the edges.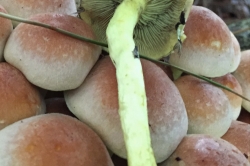 Stem
Sulphur yellow, darker at the base, pale towards the cap. Usually curved as the stem tends to start growing horizontally from a tree stump.
Possible Confusion
With the dirty olive coloured gills it is an easy to identify mushroom.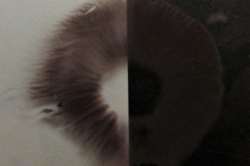 Spore Print
Purple/brown. Ellipsoid. You should scrape your spores into a small pile to get an accurate spore colour.
Taste / Smell
Very bitter.
RELATED WILD FOOD RECIPES
RELATED FORAGING ARTICLES