This used to be a very common mushroom but is becoming harder to find due to loss of habitat and chemical sprays used nowadays.
| | |
| --- | --- |
| Mushroom Type | |
| Common Names | Field Mushroom (EN), Meadow Mushroom, Madarch y Maes (CY), Pieczarka Łąkowa (PL), Mezei Csiperke (HU) |
| Scientific Name | Agaricus campestris |
| Season Start | May |
| Season End | Nov |
| Average Mushroom height (CM) | 8 |
| Average Cap width (CM) | 10 |
Please note that each and every mushroom you come across may vary in appearance to these photos.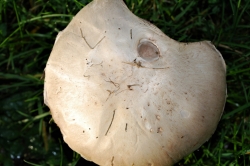 Cap
White, sometimes discoloured grey/brown, can be scaley or smooth. Starting spherical and opening out flat. Can bruise slightly pink. The cuticle often hangs down over the edge of the cap and is a good indicator of a Field Mushroom.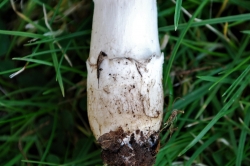 Stem
White and smooth above the ring, slightly scaly below, tapering at the base. The ring is delicate and only traces of it can usually be found.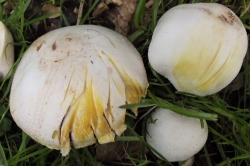 Possible Confusion
The Yellow Stainer (Agaricus xanthodermus), but this mushroom stains chrome yellow when bruised or cut and smells of Indian ink, hospitals or iodine. Agaricus pilatianus which also stains yellow and smells similar. Both do not smell edible.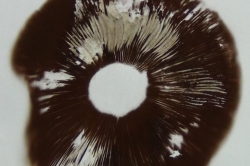 Spore Print
Chocolate brown. Ovoid. You should scrape your spores into a small pile to get an accurate spore colour.
Taste / Smell
Mushroomy. Should be cooked before consumption.
Frequency
Common but becoming less so in fields that are sprayed with chemicals.
RELATED WILD FOOD RECIPES
RELATED FORAGING ARTICLES