Not strictly speaking a poisonous mushroom but they can cause alarming symptoms in some people.
| | |
| --- | --- |
| Mushroom Type | |
| Common Names | False Chanterelle (EN), Siantrel Ffug (CY), Lisówka Pomarańczowa (PL), Narancsvörös Álrókagomba (HU) |
| Scientific Name | Hygrophoropsis aurantiaca |
| Season Start | Jul |
| Season End | Nov |
| Average Mushroom height (CM) | 5 |
| Average Cap width (CM) | 8 |
Please note that each and every mushroom you come across may vary in appearance to these photos.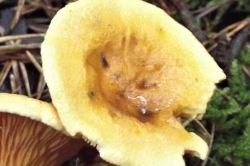 Cap
Yellow, yellow/orange/brown. Starting convex becoming shallowly funnel shaped with an inrolled, undulating margin.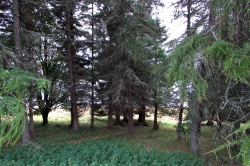 Habitat
Mainly coniferous woodland but can be found on heaths and occasionally with deciduous trees.
Possible Confusion
Chanterelle (Cantharellus cibarius) but the folds instead of true gills, the pure white flesh and the apricot smell of the Chanterelle should rule out confusion.
Spore Print
White. Ellipsoid.
Other Facts
A beautiful but annoying mushroom to find. Once you know them you can normally tell the difference between these and their tasty cousins the true chanterelles on sight from a few feet away. Even so you can still try to convince yourself they are Chanterelles, so strength of mind and will may need to be employed if you find them!
RELATED WILD FOOD RECIPES
RELATED FORAGING ARTICLES