Hedge Garlic

Edible

Autumn

Spring

Summer

Winter
The plant contains a natural antifreeze so the over wintering rosette can be found and eaten even in the depths of winter.
| | |
| --- | --- |
| Hedgerow Type | |
| Common Names | Hedge Garlic, Jack by the Hedge, Garlic Mustard, Poor Mans Mustard, Penny Hedge |
| Scientific Name | Alliaria petiolata |
| Season Start | Jan |
| Season End | Dec |
Please note that each and every hedgerow item you come across may vary in appearance to these photos.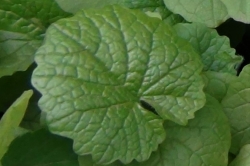 First Year Leaves
Hedge garlic is biennial and in its first years growth the leaves grow in a small, ground level rosette with broad heart shaped leaves.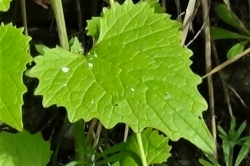 Second Year Leaves
In its second year a spike grows from the rosette and the leaves are more arrow head shaped with serrated edges.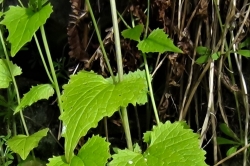 Flower Stem
In its second years growth a flower stem grows vertically, up to one and a half metres, from the leaf rosette with flowers on the top leaving behind seed pods.
Possible Confusion
Once the flowers are out it is difficult to confuse with much else, the smell helps.
Smell
Mild garlic smell when crushed.
Taste
Mildly garlicy with a hint of mustard, this plant divides us as one of us thinks it has a horrible after taste the other enjoys this, it also splits opinion when we take out foraging groups but with the use of a tasty dressing, nobody seems to mind its inclusion in salads.
Collecting
The young first years leaves or from the top of the plant in its second year are best and along with the flowers and flower buds help make an attractive and tasty salad.
The seeds can be used as mustard.
The roots at the end of the second years growth taste like mild horseradish.
Medicinal Uses
Said be used as a tonic to help asthma, rheumatism and gout it also has diuretic properties.
RELATED WILD FOOD RECIPES
RELATED FORAGING ARTICLES