Wild Food UK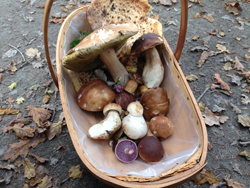 Check out our next event
s: Foraging Courses

Or buy a Gift Voucher here for any of our courses.

We have put this site together because we have a genuine love of wild British food. There is an abundance of edible plants and mushrooms that grow in the UK and knowing what you can and cannot eat from your local woods will enhance your walks and your diet. Much of what we find when foraging would be considered food for fine dining and often beyond a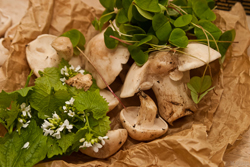 normal household budget. So why not learn how to find it for free?

Through our foraging courses we hope to share our knowledge and our passion. Our ancestors had this knowledge and our children should too. Kids are more than welcome on our courses and as they are closer to the ground they make very useful mushroom pickers but under-16-year-olds must be accompanied by a responsible adult.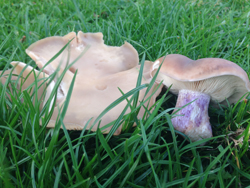 The recipes we have published have been collected from some notable chefs, our friends, there are some of our own and of course a few from our mothers.

Our guides to wild food have been put together from our own knowledge and plenty of research, we hope you find them useful but always make 100% sure you know what you are eating if you ever eat any wild food.

We all have to eat so why not eat great food for free :)

Foraging Courses
We run a range of foraging courses and trips. from days out near to London, to camping and wild food weekends and trips away to hotels with gourmet chefs. You can either book on one of our trips or we can arrange a trip specifically for you. Click here to find out more.
Foraging Alerts
If you sign up for our foraging alerts, we'll let you know about anything that we think might be of interest to you. That might be the first Morel of the season, any recipes we add, or any of our new trips or courses we are planning.
Mushroom Guide
This is a guide to edible and poisonous mushrooms of the United Kingdom. Please note some mushrooms are deadly and we will not be held responsible for the use of this guide. Please use numerous sources of identification before eating any mushroom you find in the wild.

Wild Food Recipes
Wild foods are sometimes difficult to know what to do with in the kitchen so we've provided what we can as a guide for how to prepare them, and some recipes you might want to try. Some are our own, some have been kindly contributed by Chefs we know and some from friends and family.


Our friend Phil Breach has kindly written this poem for us.

We'll travel the green roads, and down by path's edge,
Employing keen vision and foraging powers,
For Bramble and Nettles and Jack-By-The Hedge.

For Sorrel and Blewit we'll creep 'midst the bowers.
The hedgerows we'll search for the Hip and the Haw,
For Blackthorn and Gooseberry and sweet Elder flowers.

With heads filled with legends and steeped in the lore,
We'll seek out the Cep and the bright Chantarelle,
And Ramsons we'll scent 'pon the old forest floor.

We'll hunt for the Beefsteak and Shank and Morel,
For Puffball and Milkcap and Chestnut Bolete.
For Heather and Cloudberry out 'pon the fell.

And down by the shore we'll look for a treat.
We'll gather up driftwood and kindle a fire,
To cook up the Sea Kale, Laver and Beet,

The Wrack and the Oarweed, the Dulse and Samphire.
Re-fuelled and full-bellied we'll set off again,
Walking the byways of every green shire.

For Crowberry and Myrtle, for Hop and Fat-hen,
We'll forage the copse and the heath and the fen.
If you would like to enjoy more of Phil's work
click here