A lovely gourmet mushroom that can be found from November to February when there is not that many other mushrooms about.
| | |
| --- | --- |
| Mushroom Type | |
| Common Names | Wood Blewit (EN), Pied Bleu (FR), Coes Las y Coed (CY), Gąsówka Fioletowawa (PL), Lila Pereszke (HU) |
| Scientific Name | Lepista nuda |
| Synonyms | Clitocybe nuda |
| Season Start | Oct |
| Season End | Feb |
| Average Mushroom height (CM) | 10 |
| Average Cap width (CM) | 12 |
Please note that each and every mushroom you come across may vary in appearance to these photos.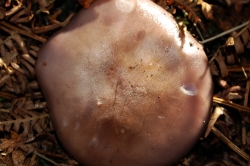 Cap
Convex becoming flattened with a wide umbo, the edges often turning up when very mature. Starting lilac/blue becoming more brown then fading. Younger mushrooms have an inturned edge.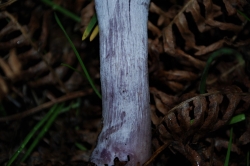 Stem
Bluey-purple and a bit fibrous, more often than not thick and stout although can be fairly thin, and can be slightly bulbous towards the base.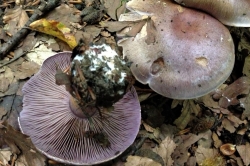 Possible Confusion
Some of the Cortinarius species, especially the Bruising Webcap (Thaxterogaster purpurascens), pictured, as they can have similar lilac blue colouring but generally have an unpleasant smell and the spore print is rusty brown. The stem will usually have band of orange/brown due to the spores sticking to the residue of the cortina or there will be some of the cortina left hanging from the edge of the cap looking a little like cobweb.
Sordid Blewit (Lepista sordida) looks almost identical to a Wood Blewit but is smaller and generally thinner fleshed. This is not a problem as both mushrooms taste the same and both are edible.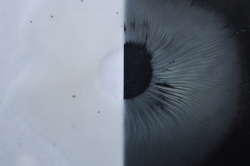 Spore Print
Off-white to pale pink. Ellipsoid. The spores should be scrapped into a small pile to get an accurate spore colour.
Taste / Smell
Mushroomy and strong, slightly perfumey with a solid, meaty texture when fairly dry but they can hold a lot of water. Can be used for most dishes and drys very well. Must be cooked before consumption.
Other Facts
Must be cooked before consumption.
The Blewits like the cold and only start to appear when the temperature is constantly below 17 degrees and quite easily survive a frost.
RELATED WILD FOOD RECIPES
RELATED FORAGING ARTICLES