Occasional but can be found in great numbers towards the end of the season when lucky enough to find them.
| | |
| --- | --- |
| Mushroom Type | |
| Common Names | Trumpet Chanterelle (EN), Winter Chanterelle (US), Yellow Foot (US), Siantrel Cornffurf (CY), Pieprznik Trąbkowy (PL), Tölcséres Rókagomba (HU) |
| Scientific Name | Craterellus tubaeformis |
| Synonyms | Cantherellus tubaeformis |
| Season Start | Aug |
| Season End | Dec |
| Average Mushroom height (CM) | 8 |
| Average Cap width (CM) | 5 |
Please note that each and every mushroom you come across may vary in appearance to these photos.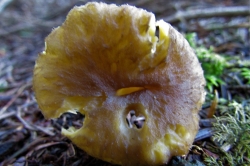 Cap
Convex with a depression in the centre when young becoming funnel-shaped with irregular edges. A hole in the centre can run right through to the hollow stem. Dark yellow/brown to orange/yellow.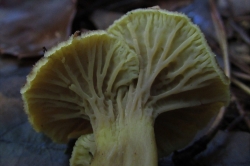 Gills
Pale yellow/brown. Not crowded, irregularly branching and running down the stem, these are not true gills but folds.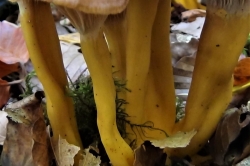 Stem
Yellow, cylindrical to irregular and hollow. Can have a vertical depression making the stem look like a pair of yellow legs.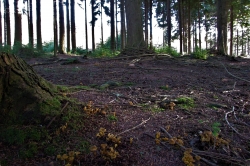 Habitat
Mixed woodland and coniferous forest on moss or rotting wood. Found more in mossy Beech woods.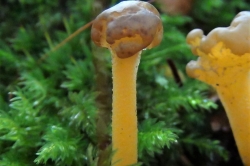 Possible Confusion
Other Chanterelles but these are edible.
The Jelly Baby (Leotia lubrica), pictured, looks similar but does not have gills and has a bulbous cap rather than a slight funnel shape. This mushroom is considered poisonous or inedible in some guides, edible in others, best avoided.
Spore Print
Off-white. Subglobose.
Taste / Smell
Excellent, stronger but less sweet than Chanterelle (Cantharellus cibarius).
RELATED WILD FOOD RECIPES
RELATED FORAGING ARTICLES