Mainly found on acid moorland/heathland with Scots Pine, particularly in Scotland and the North.
| | |
| --- | --- |
| Mushroom Type | |
| Common Names | Velvet Bolete, Boled Melfed (CY), Maślak Pstry (PL), Tarka Tinóru (HU) |
| Scientific Name | Boletus / Suillus variegatus |
| Synonyms | Boletus variegatus |
| Season Start | Jul |
| Season End | Nov |
| Average Mushroom height (CM) | 6–10 |
| Average Cap width (CM) | 5–14 |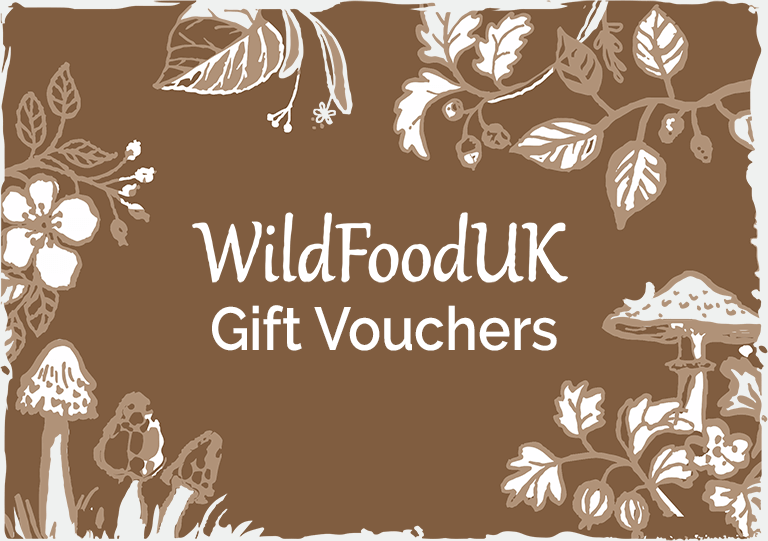 Please note that each and every mushroom you come across may vary in appearance to these photos.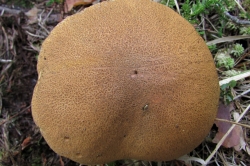 Cap
Brown, yellow to orange brown with fine velvety scales, usually dry unless found in wet weather.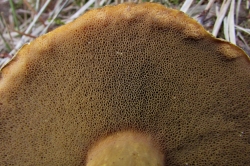 Pores
Mustard coloured but the ends on the outside are a darker orange/brown. Can blue where handled.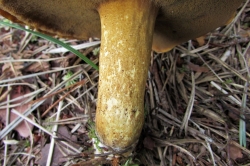 Stem
Concolorous with the cap but usually slightly lighter, cylindrical but sometimes with a slightly swollen base.
Habitat
Grows in coniferous woodland (on acidic heathlands, moorlands or plantations), mycorrhizal with pines, particularly Scots pine.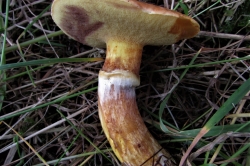 Possible Confusion
Larch Bolete (Suillus grevillei), pictured, looks similar and grows in a similar habitat but it has a ring zone on the stem that is absent on the Velvet Bolete.
Taste / Smell
Acidic. Not one of the best Boletes for the table.
Frequency
Occasional and widespread. More common on the Scottish Highlands, less common in England and Wales.
Spores
Yellow brown. Subfusiform.
RELATED WILD FOOD RECIPES
RELATED FORAGING ARTICLES