A fairly large bolete associated with poplar and one of Attila's favourites since childhood. Like all the Leccinum species, it should be cooked well!
| | |
| --- | --- |
| Mushroom Type | |
| Common Names | Slate Bolete, Cap Tyllog Cras (CY), Koźlarz Topolowy (PL), Nyárfa-Érdestinóru (HU) |
| Scientific Name | Boletus / Leccinum duriusculum |
| Season Start | May |
| Season End | Oct |
| Average Mushroom height (CM) | 5-15 |
| Average Cap width (CM) | 7-15 |
Please note that each and every mushroom you come across may vary in appearance to these photos.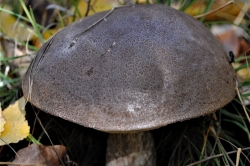 Cap
7–15 cm across, sub-spherical, then convex to flattened, its margin often projecting a little. Its skin is finely downy to smooth, pale brown, buff, ochre-brown to grey-brown, often cracking with age.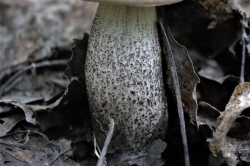 Stem
5–15 cm tall, 2–5 cm wide, robust, cylindrical, spindle-shape (fusiform) or swollen around the middle (ventricose). Whitish with dark grey-black squamules, in a net-like pattern. The top of the stem (apex) is often paler, bruising light brownish when touched. Stem base stains blue-green.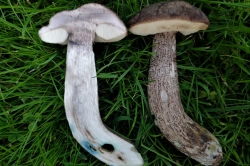 Flesh
White to off white, turning pink to violaceous when cut, after a few minutes it turns a darker grey to black. Might be staining blue in maggot holes. It is thick, firm to soft in the cap, fibrous in the stem. 
Habitat
Ectomycorrhizal, associated with poplars. Growing solitary or more commonly in groups from early Summer to mid-Autumn. Prefers open woodlands, parks and cemeteries.
Possible Confusion
It could be confused with other Leccinum species, but as all of them are edible after thorough cooking, this won't cause any problems.
Greyshank Bolete (Leccinum cyaneobasileucum), is associated with birch, and it is common and widespread everywhere in the UK. Its stem base stains blue, and its white flesh turns pink when cut, then slowly turns blue. Its mycorrhizal partner and smaller size make it clear that it is not Slate Bolete.
Brown Birch Bolete (Leccinum scabrum) is associated with birch, same as the Greyshank Bolete, however its flesh remains white after being cut, and its stem base doesn't stain blue.
Despite Leccinum albostipitatum having the same mycorrhizal partner as Greyshank Bolete, it has bright orange to brick coloured cap which make it easy to separate.
Saffron Bolete (Leccinellum crocipodium) prefers oak, beech and hornbeam, has ochre-yellow to yellow-brown cap and doesn't stain blue at the stem base.
Spore Print
Light olive brown. Spores are fusiform, ellipsoid, colourless (hyaline) and smooth with droplets.
Taste / Smell
A choice edible that has an excellent taste, especially if dehydrated first. It has a pleasant smell.
Frequency
Widespread but Occasional in the South and Southeast.
RELATED WILD FOOD RECIPES
RELATED FORAGING ARTICLES