A rare toxic Bolete, although it is quite poisonous, no fatalities have been recorded in the UK.
| | |
| --- | --- |
| Mushroom Type | |
| Common Names | Devil's Bolete (UK), Satan's Bolete,, Cap Tyllog y Cythraul (CY), Krwistoborowik Szatański (PL), Sátántinóru (HU) |
| Scientific Name | Boletus / Rubroboletus satanas |
| Synonyms | Boletus satanas |
| Season Start | Jun |
| Season End | Oct |
| Average Mushroom height (CM) | 13 |
| Average Cap width (CM) | 22 |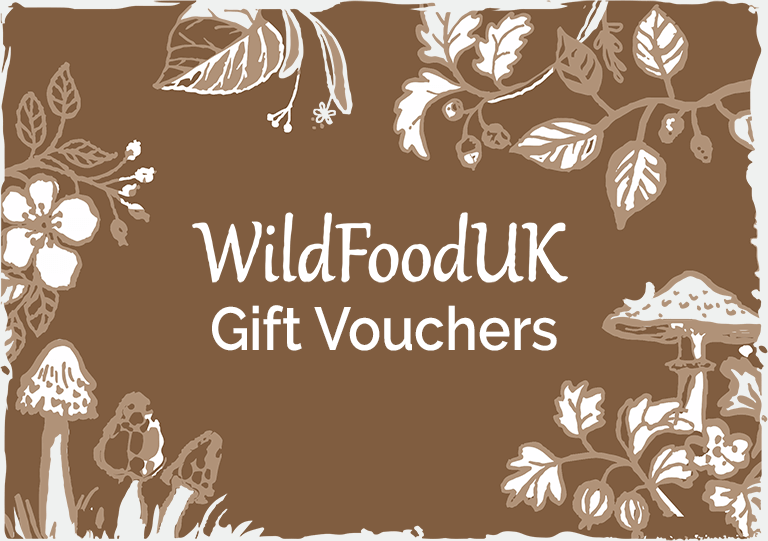 Please note that each and every mushroom you come across may vary in appearance to these photos.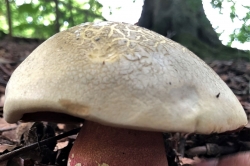 Cap
Convex but often rough and undulating. Off-white with light tan, buff, sometimes with red tones and can crack when dry.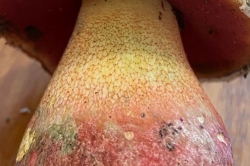 Stem
Swollen towards the base, red/orange turning chrome yellow towards the top. Usually covered in a fine red reticulation or mesh.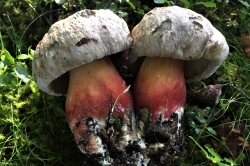 Possible Confusion
Bitter Beech Bolete (Caloboletus calopus), pictured, has yellow pores.
Lurid Bolete (Suillellus luridus), looks similar but tends to have a darker cap and the stem is not as bulbous.
Bilious bolete (Rubroboletus legaliae) looks very similar but has red or pink tones in the grey cap.
RELATED WILD FOOD RECIPES
RELATED FORAGING ARTICLES