Fairly common but localised. Can be found in large numbers, mainly in Spring but we've found them at all times of year.
Mushroom Type
Common Names
Scientific Name
Pleurotus ostreatus
Season Start

All

Year
Season End

All

Year
Average Mushroom height (CM)
0
Average Cap width (CM)
15
Please note that each and every mushroom you come across may vary in appearance to these photos.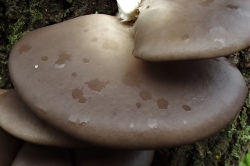 Cap
Convex and shell-shaped when young opening out flatter with wavy, sometimes split edges. Smoky grey/silver/brown.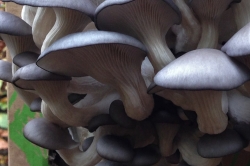 Stem
White and opening out to the cap when present as sometimes the cap appears to comes straight from the tree.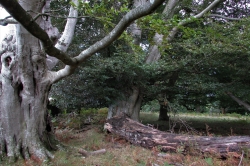 Habitat
Deciduous trees, particularly beech. Grows in large shelf-like clusters on stumps and fallen wood.
Possible Confusion
Other oyster mushrooms which can be pink, white or yellow. These are all edible.
Oysterlings look similar but never grow more than four centimetres across.
Spore Print
Lilac. Cylindrical.
Taste / Smell
Excellent. Mushroomy.
Other Facts
The Oyster mushroom has some amazing properties one of which is that it is a carnivorous mushroom which traps and ingests nematode worms to provide it with nitrogen and other useful chemicals.
The Pleurotus family contain statins which are thought to help reduce cholesterol.
Another is the fact that they have the ability to clean up pollution by hydrocarbons like petrol and oil which is quite incredible.
RELATED WILD FOOD RECIPES
RELATED FORAGING ARTICLES