This mushroom is known for causing severe poisoning when consumed with alcohol, but there are suggestions that it also has longer lasting health effects, therefore we moved it to the poisonous section and can't recommend eating it. See more below.
| | |
| --- | --- |
| Mushroom Type | |
| Common Names | Common Inkcap (EN), Tipplers Bane, Cap Inc (CY), Czernidłak Pospolity (PL), Ráncos Tintagomba (HU) |
| Scientific Name | Coprinopsis atramentaria |
| Synonyms | Coprinus atramentarius |
| Season Start | Apr |
| Season End | Nov |
| Average Mushroom height (CM) | 10 |
| Average Cap width (CM) | 8 |
Please note that each and every mushroom you come across may vary in appearance to these photos.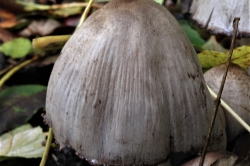 Cap
Shiny grey/brown or sometimes quite pink, smooth, darker in the middle and initially bell-shaped becoming furrowed and then splitting before deliquescing.
Possible Confusion
Some of the other Inkcaps look superficially similar but its shape and smooth cap are quite distinctive identification features.
See the good edible Shaggy Inkcap (Coprinus comatus) and the inedible but beautiful Magpie Inkcap (Coprinopsis picacea).
Spore Print
Date brown. Almond shaped.
Taste / Smell
Mushroomy. Shouldn't be ingested raw, causes poisoning when ingested with alcohol and we don't recommend eating it in any circumstance. See more below under other facts.
Other Facts
WARNING: The Common Inkcap causes severe poisoning if consumed with alcohol 48 hours either side of eating the mushroom. Even applying alcohol based aftershave after eating it can cause a reaction. It was still listed as edible in some guides if alcohol was avoided. Recent studies suggest that it contains toxins with a carcinogenic potential and some authorities advise it shouldn't be consumed at all, therefore we can't recommend eating it.
The black mess left after the mushroom deliquesces used to be used as ink after boiling with a little water and cloves, or urine.
RELATED WILD FOOD RECIPES
RELATED FORAGING ARTICLES