There are four types of Earthball in the UK, Common Earthball (Scleroderma citrinum), Leopard Earthball (Scleroderma areolatum), Potato Earthball (Scleroderma bovista) and Scaly Earthball (Scleroderma verrucosum), all are similar but the Scaly Earthball is darker in colour, Potato Earthball is often paler. They are a very common group of fungi, especially the Common Earthball which appears to be responsible for the second most mushroom poisonings each year in the UK. This is possibly due to confusion with Common Puffball (Lycoperdon perlatum) or even Truffles (Tuber spp.).
| | |
| --- | --- |
| Mushroom Type | |
| Common Names | Common Earthball (EN), Poison Pigskin Puffball (US), Coden Euraid (CY), Tęgoskór Cytrynowy (PL), Rőt Áltrifla (HU), Leopard Earthball (EN), Coden Smotiog (CY), Tęgoskór Lamparci (PL), Leopárd-Áltrifla (HU), Potato Earthball (EN), Coden Glorog (CY), Tęgoskór Kurzawkowy (PL), Fakó Áltrifla (HU), Scaly Earthball (EN), Coden Ddafadennog (CY), Tęgoskór Brodawkowany (PL), Nyeles Áltrifla (HU) |
| Scientific Name | Scleroderma spp. |
| Season Start | Jul |
| Season End | Nov |
| Average Mushroom height (CM) | 8 |
| Average Cap width (CM) | 12 |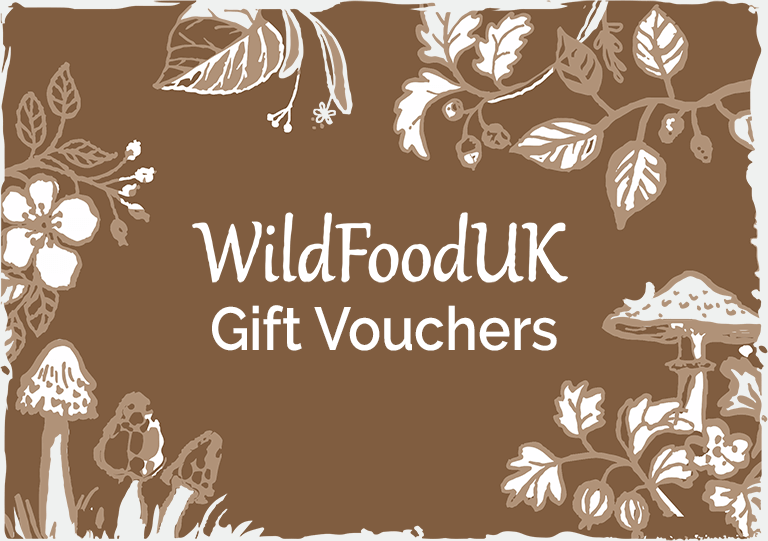 Please note that each and every mushroom you come across may vary in appearance to these photos.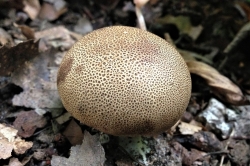 Fruiting Body
Generally spherical, irregular or potato shaped. Ranging from white to tan to brown with a darker wart like covering and a thick leathery skin.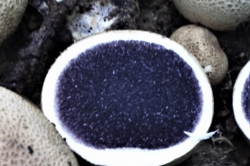 Flesh
Inside the mushroom has a purple/brown to black interior with small white 'veins' running through. When very young the interior of the mushroom can appear whitish or slightly pink/purple but is never pure white like a Puffball. When mature the interior becomes powdery and the outer skin will develop pores or splits  through which the spores can be distributed when the mushroom is disturbed or rained on.
Spore Print
Brown. Globose with a net like covering.
Taste / Smell
A bit like rubber.
RELATED WILD FOOD RECIPES
RELATED FORAGING ARTICLES