A large brittlegill, one of the blackening species, which is not as brittle as you would assume. It is a rarely foraged species, but it might be your guide to help find a Penny Bun.
| | |
| --- | --- |
| Mushroom Type | |
| Common Names | Blackening Brittlegill (EN), Tegyll Brau Duol (CY), Gołąbek Czarniawy (PL), Szenes Galambgomba (HU) |
| Scientific Name | Russula nigricans |
| Season Start | Jul |
| Season End | Nov |
| Average Mushroom height (CM) | 2-7 |
| Average Cap width (CM) | 4-15 |
Please note that each and every mushroom you come across may vary in appearance to these photos.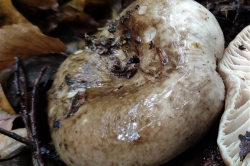 Cap
Off white when young, its centre then becomes smoky before the whole cap turns to grey-brown then to black. Convex at first, then becoming flat with central depression. Skin is smooth, whitish when young. The margin is in-rolled until the mushroom is quite mature.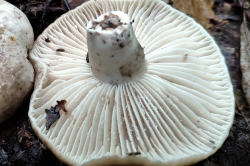 Gills
Attached to the stem (adnate), distant, thick, broad, and less fragile than the other brittlegills. Creamy white, reddening to blackening, forking at the stem. The edge of the gills often blacken first.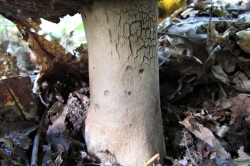 Stem
Cylindrical but the base can often be somewhat tapered. White when young, blackening with age. Solid, hard, its surface is smooth.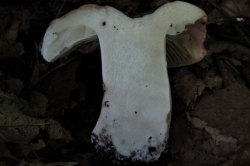 Flesh
Thick, tough, rigid, somewhat brittle. White at first, reddening than blackening when cut or bruised.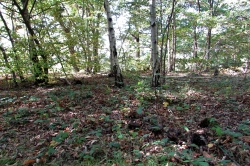 Habitat
Ectomycorrhizal with broadleaved and conifer trees, such as beech, oak, lime and spruce. Grows on acidic soil, in small to large groups, in open woodlands, parklands and cemeteries.
Possible Confusion
There are a few blackening Russula species, e.g. Crowded Brittlegill (Russula densifolia), but they have more crowded gills, and their taste is a bit spicier, not mild.
Spore Print
White. Sub-spherical to broadly ellipsoid, covered with small warts.
Taste / Smell
Taste mild, but not too pleasant, smell is faintly fruity. Its edibility ranking differs country by country, mostly considered inedible, but not in the UK. Here, it is edible, but considered poor.
Frequency
Common and widespread in the UK.
Spores
White. Sub-spherical to broadly ellipsoid, covered with small warts.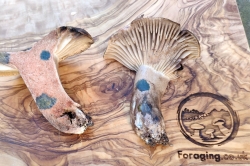 Other Facts
If you are lucky enough, you might find a small parasitic mushroom on Blackening Brittlegill which is called Powdery Piggyback (Asterophora lycoperdoides). It can become a parasite to a few different species of Brittlegills and Milkcaps.
If you use chemical reagents, you need Iron(II) Sulphate (FeSO4) and Guaiac. After you did a cross-section, just place a drop of each to the flesh, and FeSO4 will give a deep green reaction, while Guaiac will turn strong blue.
RELATED WILD FOOD RECIPES
RELATED FORAGING ARTICLES