A medium size green mushroom in the Funnel Cap genus with a distinct, strong, aniseed smell.
| | |
| --- | --- |
| Mushroom Type | |
| Common Names | Aniseed Funnel (EN), Aniseed Toadstool, Twmffat / Twndish Anis (CY), Lejkówka Zielonawa (PL), Zöld Ánizsgomba (HU) |
| Scientific Name | Clitocybe odora |
| Synonyms | Clitocybe viridis |
| Season Start | Jul |
| Season End | Oct |
| Average Mushroom height (CM) | 2-6 |
| Average Cap width (CM) | 2-8 |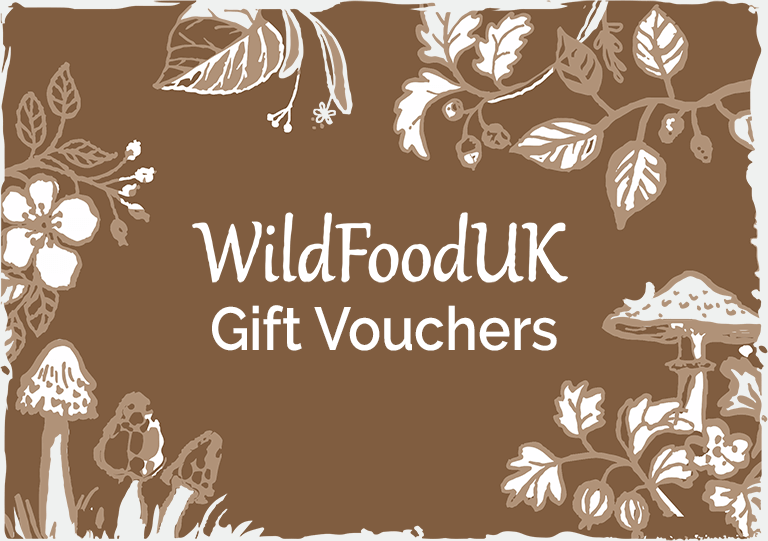 Please note that each and every mushroom you come across may vary in appearance to these photos.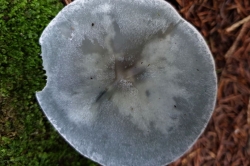 Cap
Blue-green, greyish or flushed greenish. Convex at first with a low, broad umbo and in-rolled margin. Later expanding and becoming irregular and wavy at the margin and can become shallowly funnel shaped.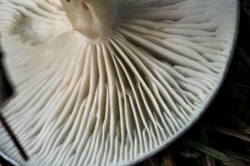 Gills
Slightly decurrent, crowded, the edge of the gills is smooth. Whitish, tinged with cap colour when young, becoming grey-green with age.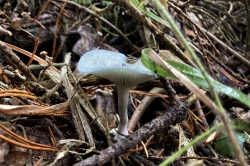 Habitat
Saprotrophic, growing on soil among leaf litter. Often under brambles and bushes in woodland (preferably under beech, sometimes under different hardwoods, occasionally under conifers), parkland or heathland. Grows solitarily or in groups.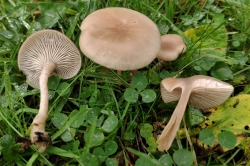 Possible Confusion
Fragrant Funnel (Clitocybe fragrans), pictured, has a rather similar aniseed smell, but it grows in a different habitat, it seems to prefer grass, also its cap changes colour according to its water content (hygrophanous). It can be white to off white to tan. Avoid this confusion, because Fragrant Funnel is toxic, it contains Muscarine!
Verdigris Roundhead (Stropharia aeruginosa) has a dark spore print and doesn't have aniseed smell.
Taste / Smell
Taste and smell strongly of aniseed.
Frequency
Occasional but widespread in the UK.
Spores
White. Ellipsoid, smooth.
RELATED WILD FOOD RECIPES
RELATED FORAGING ARTICLES