Wild Carrot

Edible

Autumn

Spring

Summer

Winter
Although the leaves and roots of Wild Carrot are similar to Hemlock the flowers and forked leaf bracts under the flowers will save confusion with Hemlock and other Umbellifers. The carrot itself is tough and stringy but has a strong carrot flavour so is best cooked in soups or stews and removed before consumption. The younger roots from the first years growth are not as tough but are still quite fibrous.
| | |
| --- | --- |
| Hedgerow Type | |
| Common Names | Wild Carrot, Queen Anne's Lace |
| Scientific Name | Daucus carota |
| Season Start | Dec |
| Season End | Dec |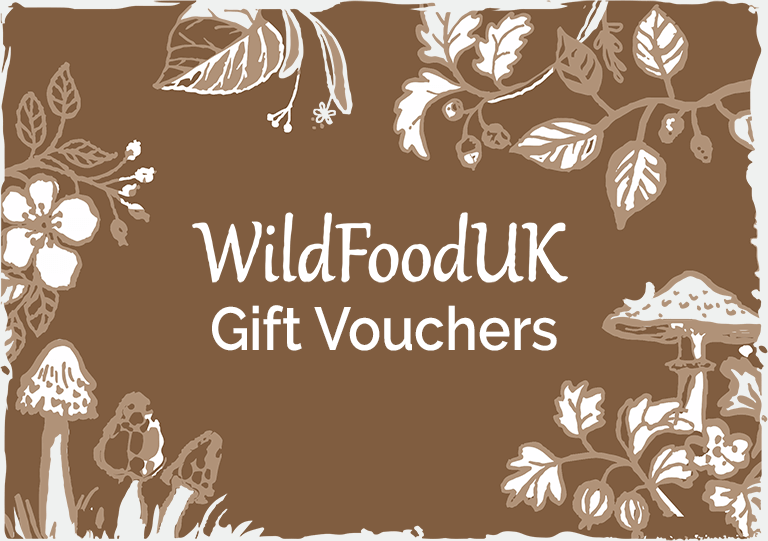 Please note that each and every hedgerow item you come across may vary in appearance to these photos.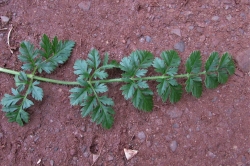 Leaves
The leaves are pinnate and generally less triangular in overall shape than some of the other fern leaved umbellifers. The upper surface is smooth, the underside is covered in hairs. The leaf stem is also covered in hairs.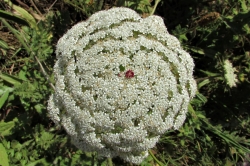 Flowers
Has an umbel of white to off white to pink flowers  with five petals and usually one to five small flowers in the middle of the umbel which are dark red to almost black. This is a key identifying feature as well as the forked leaf bracts which grow beneath the flower. As the flowers go to seed the umbel closes in on itself and can snap off and blow around like tumbleweed, dispersing its seeds.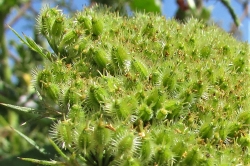 Seeds
The small double seeds are oval and slightly flattened on one side and covered in tiny hook like hairs.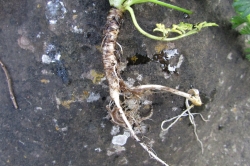 Roots
Off white and carrot shaped, although depending on the soil, stones and environment  they are growing in can be forked and twisted and very woody and fibrous. Even the tiny roots of young plants are fibrous and tough.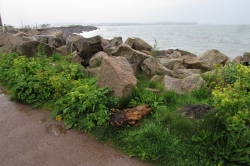 Habitat
Wild Carrot is mainly a coastal plant in hedgerows, waste ground, fields and meadows although it can be found inland but is less common.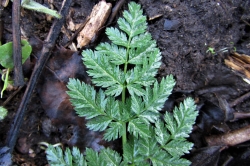 Possible Confusion
Could be confused with a few Umbellifers, particularly Hemlock, pictured, so great care must be taken when foraging for this plant.
Smell
The root smells strongly of carrot.
Taste
The root tastes of carrot but should be used as a flavouring and removed before consumption as it is very tough and fibrous.
Frequency
Very common near to the coast, less so inland.
Collecting
It is better to identify Wild Carrot when it is in flower due to its similarity to Hemlock and return next year if you want the slightly less tough younger roots.
The flowers can be eaten raw or battered and deep fried.
The leaves can be used in salads.
The seeds can be used in breads or soups and stews.
Medicinal Uses
Wild Carrot seeds and the seed oil have many claimed medicinal properties but not parts of the Wild Carrot should be consumed by pregnant or breastfeeding mothers.
The leaves of Wild Carrot can cause phytophotodermatitis where sap touches the skin and is then exposed to sunlight or UV rays and can cause blistering and irritation.
Other Facts
The common name Queen Anne's Lace supposedly comes from a story of James I of England's queen consort Anne pricking her finger while creating lace and leaving a drop of blood on it which would resemble the white flowers with a red to dark red-brown flower in the middle.
The Wild Carrot is the ancestor of the carrots we know and eat today and is thought to have originated in Afghanistan before spreading to Europe and the Americas. The orange carrot was first cultivated in the Netherlands in the 17th century.
RELATED WILD FOOD RECIPES
RELATED FORAGING ARTICLES