Himalayan Balsam

Edible

Autumn

Spring

Summer
This non native plant, introduced by the Victorians,  is quickly becoming more common due to its seed dispersal and as it can grow from seed to two and a half metres in one season can crowd out native plants.
DO NOT SPREAD THE SEEDS OF THIS PLANT! THE TRANSPORTATION OF SEEDS OF THIS PLANT OR THE PLANT ITSELF IS AN OFFENSE IN THE UK!
| | |
| --- | --- |
| Hedgerow Type | |
| Common Names | Himalayan Balsam, Policemans Helmet, Bobby Tops, Copper Tops |
| Scientific Name | Impatiens glandulifera |
| Season Start | Mar |
| Season End | Nov |
Please note that each and every hedgerow item you come across may vary in appearance to these photos.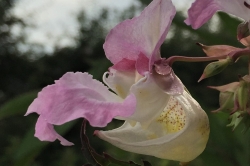 Flowers
Different hues of white, pink and purple and very ornate with a hood like shape, hence the common names.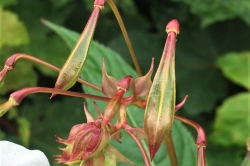 Seed Pods
The explosive seed pods are thinly kite shaped and green with red veins. The seeds start off white becoming black and eventually very hard.
Possible Confusion
Balsam is a distinctive plant and with its flowers and seed pods can be positively identified.
Taste
The young leaves have a neutral taste, the older leaves can be a bit bitter.
The seeds have a pleasant nutty taste and seem better when pale in colour before turning black and becoming quite hard.
Frequency
Becoming more common alongside British waterways every year.
Collecting
The young leaves are best for salads, the older leaves can be used in soups and stews.
The seeds can be collected by placing a bag over as many seed pods as possible and shaking.
The flowers can be used in salads.
Medicinal Uses
An extraction of this plant is used in homeopathy to treat anxiety.
Other Facts
When mature the seed pods are under a lot of tension and the slightest touch will cause them to jettison their seeds up to seven meters away from the parent plant making this a very successful coloniser of the British countryside.
It is not too difficult to eradicate Himalayan Balsam as it is very easy to pull up and the seeds only stay viable for a few years.
The hollow stem can be used as a straw.
RELATED WILD FOOD RECIPES
RELATED FORAGING ARTICLES