This is a slightly toxic but very unusual mushroom, one of the spore shooters that fire their spores out of their wrinkled caps rather than drop them from underneath.
| | |
| --- | --- |
| Mushroom Type | |
| Common Names | White Saddle (EN), White Elfin Saddle, Common Helvella, Coesyn Rhychog Gwyn (CY), Piestrzyca Kędzierzawa (PL), Fodros Papsapkagomba (HU) |
| Scientific Name | Helvella crispa |
| Season Start | Aug |
| Season End | Dec |
| Average Mushroom height (CM) | 9 |
| Average Cap width (CM) | 6 |
Please note that each and every mushroom you come across may vary in appearance to these photos.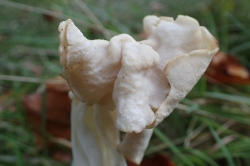 Cap
Highly convoluted sheet extending out from the convoluted stem. Roughly saddle shaped although not very smooth for the poor elves! Tends to have a pointy side which is often although not always higher.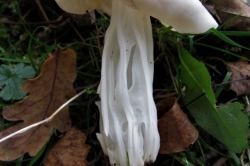 Stem
The stem looks like a tube that has pulled and pushed into wrinkles and hollows creating a series of cavities and buttresses, every mushroom quite unique.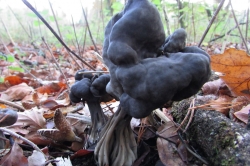 Possible Confusion
Looks similar to the Elfin Saddle (Helvella lacunosa), pictured, but this has a black fruiting body unlike the flesh of the White Elfin Saddle.
Helvella elastica is similar and light coloured but has a more or less smooth stem.
Spore Print
White. Ellipsoid.
Other Facts
The Helvellas are sometimes listed as edible but poor but research has shown some to cause upset stomachs and some to be carcinogenic. Not one for the table.
RELATED WILD FOOD RECIPES
RELATED FORAGING ARTICLES